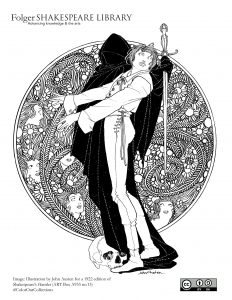 While social distancing as a Hopkins student doesn't result in a sudden abundance of free time, we here at the library take it upon ourselves to find the best of the best to help you in your studies, your future employment, and occasionally even in your entertainment. 
While it's tempting to treat online courses like a break from the rigors of academic life at Hopkins, it remains important to remain connected to class work, academic life, and culturally enriching entertainment. Luckily, being cooped up at home doesn't need to result in cabin fever.
Craving a night at the theater? 
The New York Metropolitan Opera is offering free streams of their classic performances through their website. Check out their schedule on their website by clicking here. 
Need a story time for the kids? 
Mo Willems, award-winning children's book author, illustrator, and Kennedy Center Artist-in-Residence is hosting "Lunch Doodles with Mo Willems!" through the Kennedy Center's website. These short videos include a description of Willems' work, a demonstration, and a project for the kids (and for the doodle inclined adult like yours truly). You can check them out at the Kennedy Center's website. 
Similarly, award-winning children's author of the Pete the Cat series, James Dean, is holding daily story times through his instagram.
Fancy some art therapy?
Hyperallergic has you covered. Collecting coloring pages from the likes of the Getty, the Folger Shakespeare Library, the Smithsonian, you're a click of the print button away from being able to color your stress away on Classical Greek mosaic floors, images of mythological beasts, historical scientific illustrations, or your favorite Shakespeare play. You can download them here.
Need a day at the Ballpark?
While it may not be as stimulating as opening day at Camden Yards, Ken Burns and PBS are making his documentary on the history of baseball available for streaming through the PBS website. So, grill some dogs, have a few pints, and check it out care of PBS.org. 
Need a day at the museum?
Again, you can count on the good people at PBS to look out for you. They've done the legwork to collect 19 different immersive digital exhibits that you can visit at the click of a button. While it may not replace the $18 salad and the crowds of tourist, these sites give you a level of immersion into artifacts and pieces of cultural heritage that you would be hard-pressed to get any other way. Check it out here.
Need a movie night?
We know that your first inclination is Netflix and chill, but did you know that you can stream award-winning movies, blockbusters, and documentaries through a variety of services offered by the Johns Hopkins libraries? Check out our post on that here!
If you can't find what you want there, check out Hoopla through your public library. There you can check out movies and stream them at home. Don't have a library card? First off, WHY? Second off, no worries. You can sign up for an online resources online library card at your local branch. JUST KIDDING. You can sign up for an eCard to the Enoch Pratt libraries online.
How about a concert?
The Seattle Symphony is kind enough to be streaming live broadcasts of their performances during this period of Coronamania. Thank you, Seattle Symphony!
Classical music not your jam? Some artists have taken it upon themselves to stream solo performances from the comfort of their own homes. Check out a list of concerts you've missed (I'm sure they're archived somewhere) and some that are coming up with a schedule compiled by NPR.
Need some animals in your life?
You're in luck! Zoos and aquariums around the country have made live streams of their animals available for those of us who just can't get enough wildlife in our wild lives. Some of my personal favorites include the Cincinnati Zoo (Fiona the baby hippo in particular is a real peach), and the tiger cameras at the San Diego Zoo. 
Aquatic life more your speed? Our very own National Aquarium here in Baltimore is live streaming their sea life here, while the Shedd Aquarium in Chicago is doing the same here.
Can't find your spirit animal in those? Well, CBS news has a list of other zoos and aquariums that might suit your needs more precisely. Check it our here. 
If you love birds, I'm sure there are ways to look at them online but with springtime just around the corner, why don't you look up a bird watching guide at the library (hint: CLICK ME) or you might consider downloading the Audubon society's phone app (which will help you identify birds by sight or by their song!), and see what you can see from your window.
Feel like traveling?
Got the itch to skip town? Feeling the call of wanderlust? Lucky for you Google Earth provides virtual tours of locations around the world. Book a ticket with your imagination and go explore! 
Go tour the UNESCO World Heritage Sites!
Check out what it would be like to undertake the Islamic Pilgrimage to Mecca!
Visit some of the world's most impressive football (Soccer) grounds!
Or see how peoples from around the world live or have lived throughout time and place.
Still feeling cooped up? 
Go for a walk.
Did we miss anything? Share what we're missing with us in the comments below!