The Peabody Ballroom Experience is an ongoing public humanities collaboration between Johns Hopkins University and Baltimore's ballroom community, a performance-based arts culture comprising gay, lesbian, and transgender people of color. The project aims to cultivate an exchange of knowledge between JHU and ballroom by offering diverse opportunities for faculty, students, staff, and ballroom performers to come together as partners in education. More information about the project, directed by Dr. Joseph Plaster, is available at this blog post and this website. Photos are available at the project Instagram account.
This post, part two of three, highlights the collaboration between veteran vogue dancer Marquis Revlon Clanton and the Peabody BFA Dance Program. At the invitation of Dance Program chair danah bella, Clanton led four vogue workshops for students in March and April 2019. Together, Clanton and students kicked off the April 13 Peabody ball with an epic, choreographed performance. Three dance students also competed in the ball's "virgin" performance categories. Below, Clanton and BFA students reflect on their experiences at the workshops and Peabody ball in interviews conducted by project director Joseph Plaster.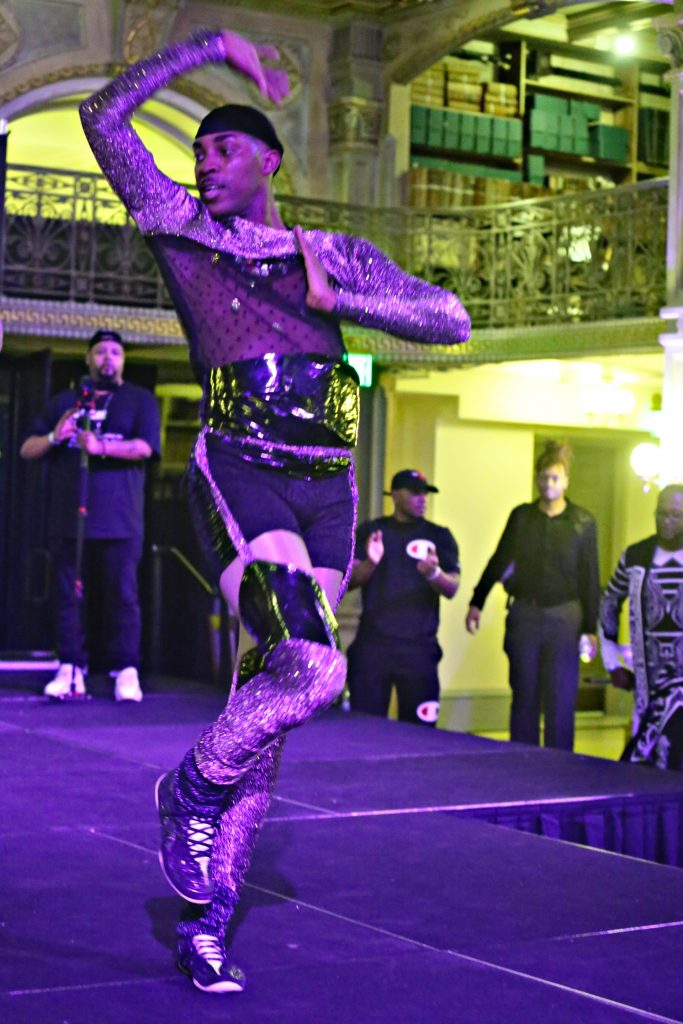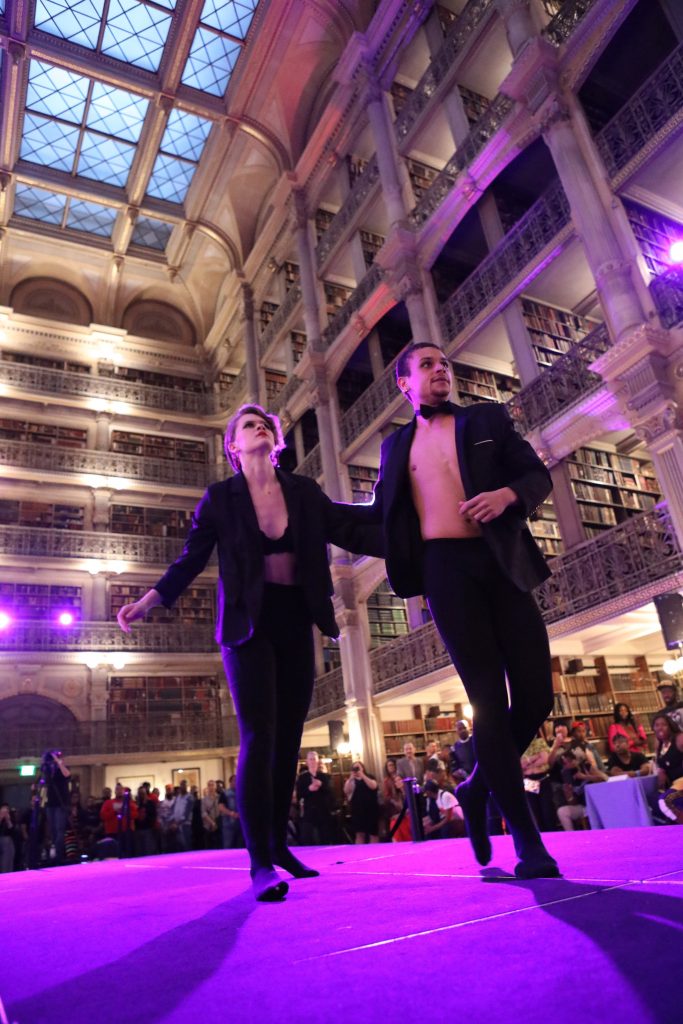 .
---
Vogue, Clanton says, is "telling a story through your body." The origins of the dance form are disputed. Many cite the story in which Paris Dupree, in the 1970s, took out a Vogue Magazine and mimicked the poses at the beat. Other accounts that note voguing may have originated with prison inmates at Rikers Island. Regardless, cultural critic madison moore writes, voguing "participates in a wide variety of black diasporic sonic and movement practices." It is a "defiant and spectacular way for marginalized bodies to inhabit the world by using the performance of style to assert our agency and to call out normativity."
Icon Marquis Revlon Clanton
Clanton is a Baltimore-based dancer, performer, and model. An icon in the ballroom scene, he has performed and taught throughout the United States, South Korea, Russia, and many European countries.
"My mother said I came out the womb dancin'. So, I can remember that I always danced…One thing that I like about voguing is you could be whatever you want to be – you could be yourself. With voguing, I just felt like you could be free. 
When I teach classes, I try to explain it to the students so they understand a little history behind the movements. I would let you know that voguing is all five elements. I would break down the elements, with hand performance, with catwalks, with duckwalks, with spins, with dips, floor performance….I also would explain [that] it comes from New York City. It started off with poses in the magazine. You know how when a model is doing a photo shoot, and the photographer says 'pose?' It started with poses, and then the poses created movement and create flow, and then from there, it created the form.
When you learn other dances, it's more of routines. Voguing is elements, but when [you put] elements together, it's more of a feelin'. So, when you're voguing, you have to connect with some type of emotion, and that creates your story—whether it is a happy place, whether it's pain, whether it's insecurity, whether it's aggression. Whatever it is, you have to just find that emotion, that feeling, and then put that in your vogue, and that will tell your story."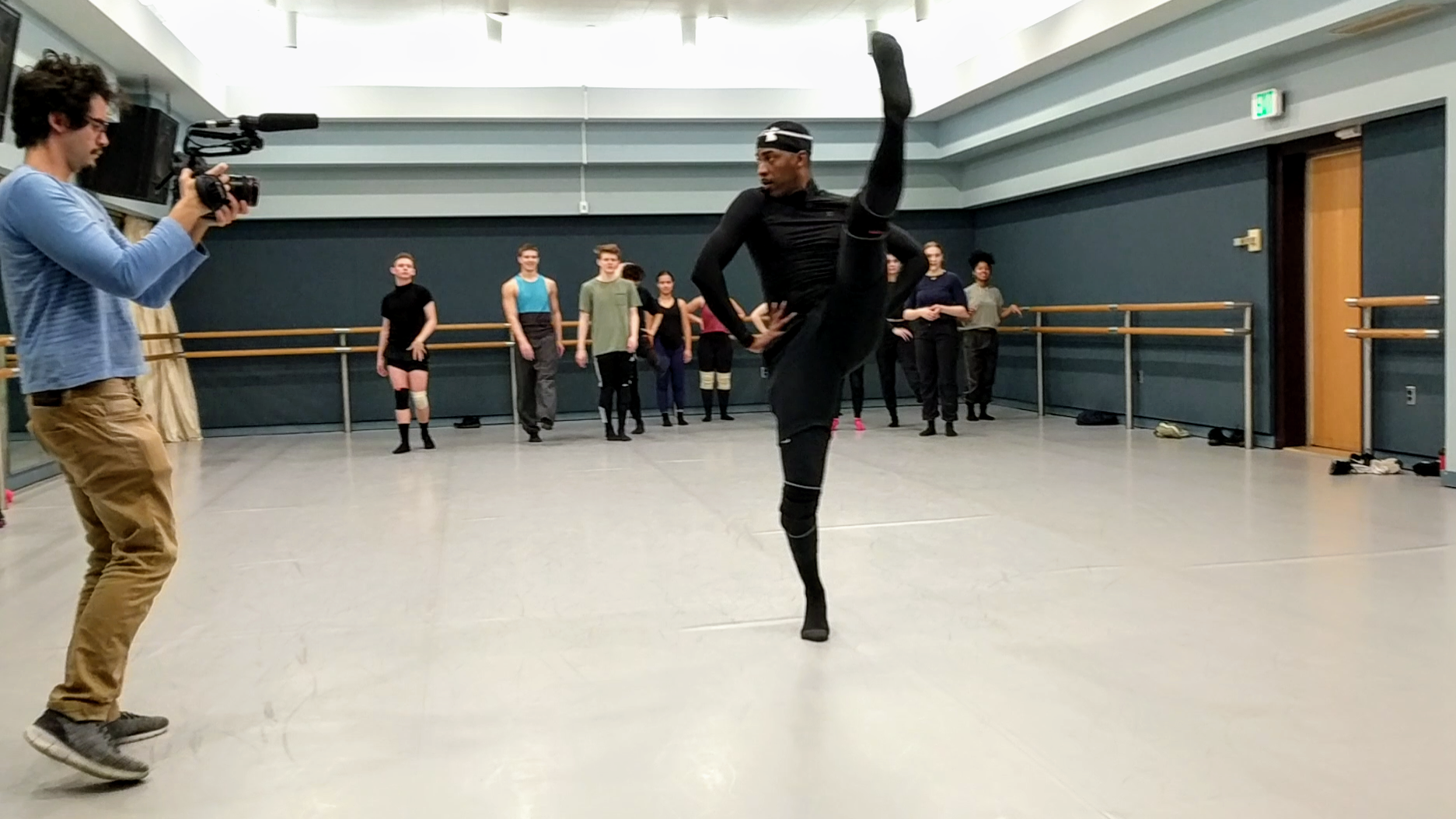 "When [ballroom] started, it was a place where we call it our own because other places we couldn't call our own. It started off with mainly black and Latino, but now it's everybody, everybody. A lot of us that was a part of it when it was underground –it is good for us to let our voices be heard when it's going mainstream because if you want to use this culture, make sure that you hire people and book people that know what this culture is about.
I'm super excited about the Peabody project because it shows how far we have came in ballroom. At one point in time, we probably wasn't even able to come up in here, and then we might have came up here to see a book. Now, we comin' in here into havin' an event. So, it shows the growth. I think it's something good for the ballroom community, and I just think it's something good for Baltimore, in general."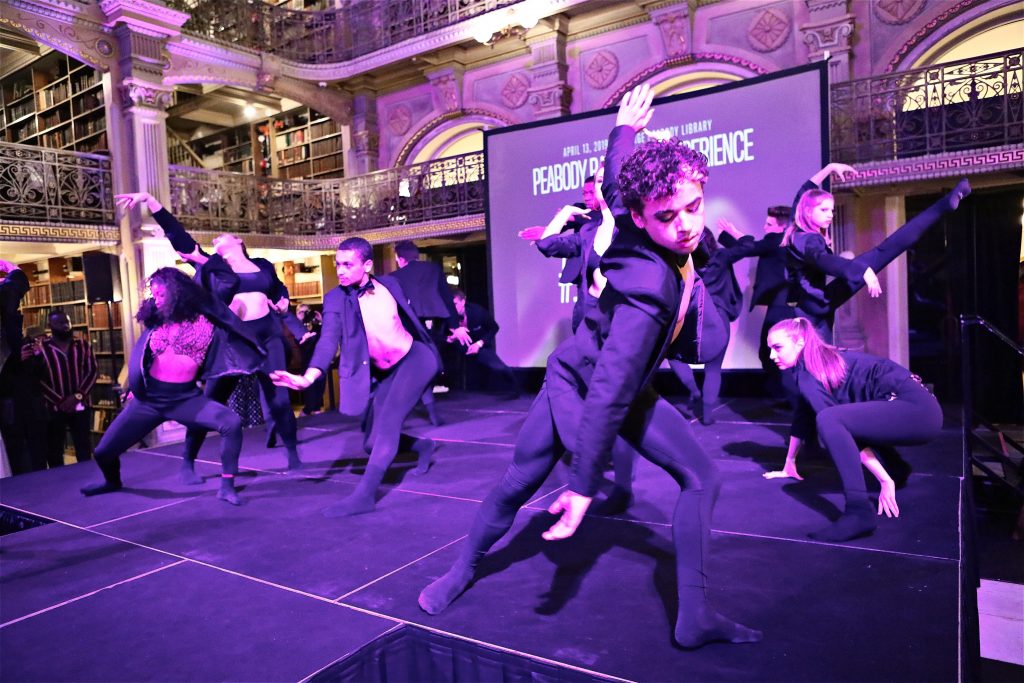 ---
Peter Pattengill
Peter Pattengill is a freshman in the inaugural class of the Peabody Institute BFA Dance Program, chaired by danah bella.
"Before I came into the [BFA] program, I was a primarily classically trained ballet dancer. In classical ballet, not only is hardly anything improvised, most of your works were created well before your time. It's a lot of repertoire that's been perfected and done the exact same way for hundreds of years. Voguing has so many freestyle aspects which is something that was entirely new to me and I think of a lot of the rest of my peers.
There's definitely a feminine energy to the style of vogue fem Marquis taught us, which is something that I don't think we see enough of in mainstream dance culture. The stereotype of the male dancer is feminine, flamboyant. But when it comes to being on stage, it is a very heteronormative, masculine energy that is portrayed. [Vogue] allowed me to tap into my femininity and my queer identity and be who I am without any pressure to be anything else. I found that I could be a little bit more free-spirited than I typically am. I found that I had some sass. I had some comedic elements that I could bring forward. I learned that I absolutely love to dip.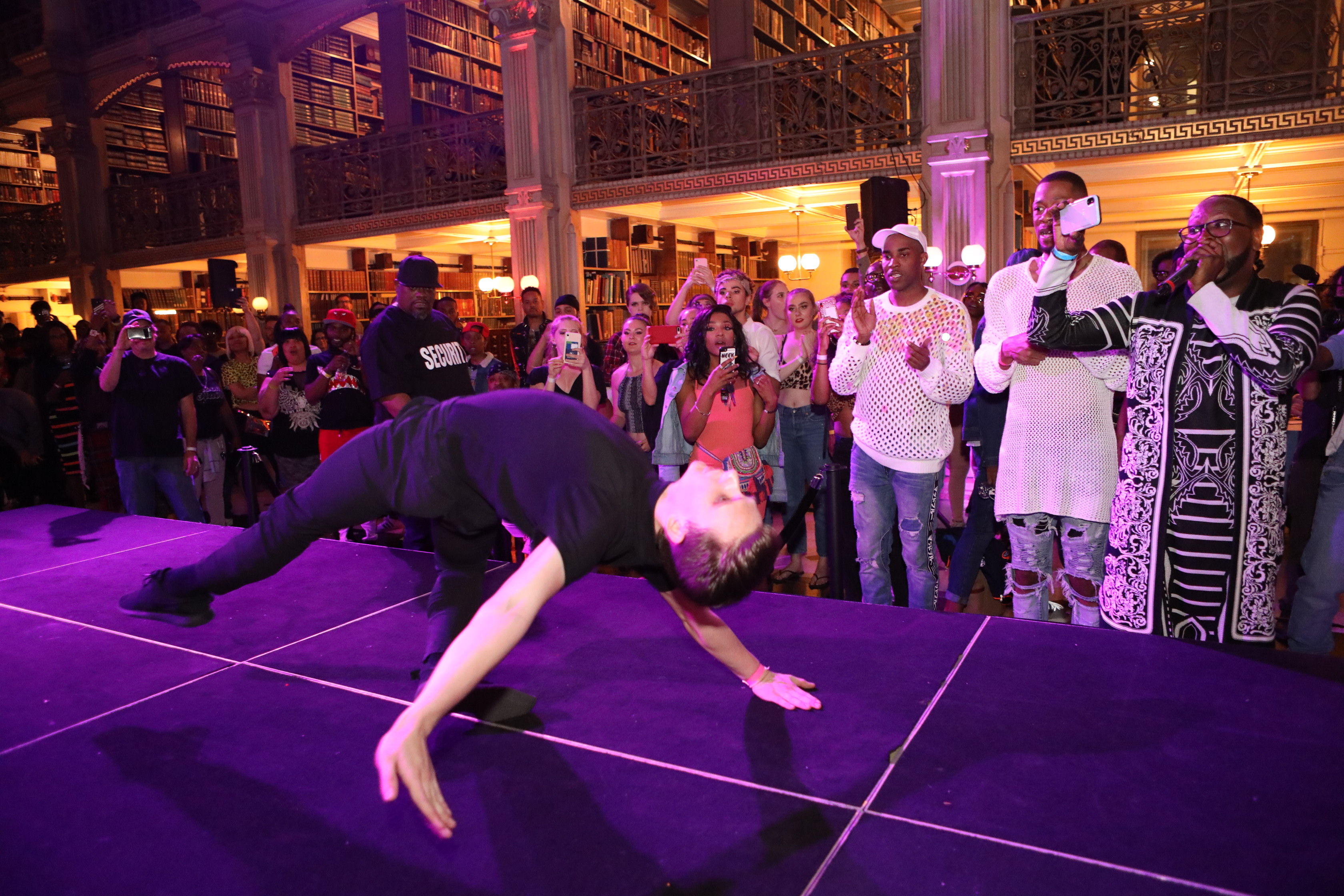 Peter Pattengill "dips" at the Peabody ball. Photo by Gerard Gaskin.
There's a history of black queer vogue dancers and [I had] to acknowledge that this wasn't something that was created for me but it's something that I can take part in. There are people that have devoted their lives to this and because it is so personal, they need to have their own voices. And if we had just tried to mimic them, I think we would have been almost stealing a part of their identity. I think it was really important for us to take our own [classical dance] backgrounds and our own identities and interpret vogue fem in a way that could be successful and interesting and something possibly new.
It absolutely allowed me to tap into my queer identity, especially being at the ball and seeing such a wide range of people. There were cisgendered gay men, there were transwomen, there cisgendered straight women, there were people of all different identities—sexual, gender—and it was just so amazing to see all of these people come together as a community that really served each other. So as a queer man, that absolutely spoke to me because I immediately associated it with a family.
It's a reminder that art and dance and creation can really form a community. I think that was just a huge reminder to me about what art and dance is and what it should be. It's a reminder of why we are here and why we do what we do.
---
Chase Fittin
Chase Fittin is a freshman in the inaugural class of the Peabody Institute BFA Dance Program, chaired by danah bella.
"I was born and raised in Las Vegas. I started dancing when I was six, and I started doing hip-hop at first, and then I kind of slowly progressed into doing more dance styles. Last year I did the Billboard Music Awards. I performed with Christina Aguilera and Demi Lovato. This last summer I was also a part of the Las Vegas Aces.
[Marquis' dance workshops] was a complete polar opposite from stuff that we've done here at Peabody because we're so modern and ballet-focused. I know when I'm doing modern and ballet, I feel like I have to stay more in the lines. Vogueing allows you to kind of draw outside of the lines and experiment more.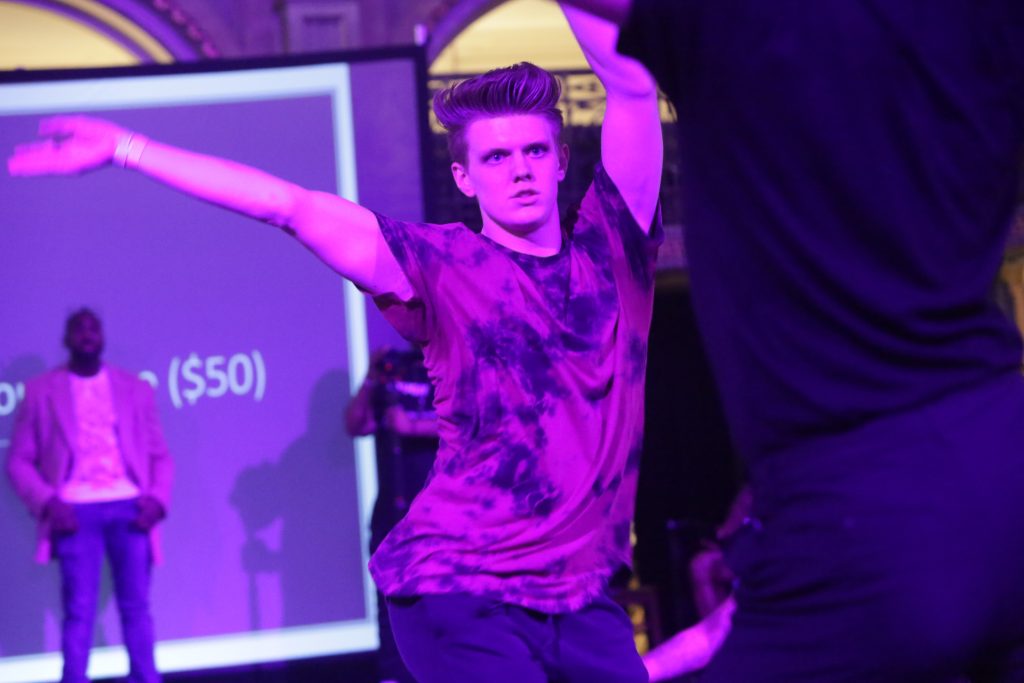 Chase Fittin at the Peabody ball. Photo by Gerard Gaskin.
I loved the sense of community that was established at the ball, because even though obviously people were competing against each other and there was monetary value at stake for people to win, it didn't really matter. It just felt like everyone was supporting each other. If you went up there and you were owning it and you were killing it up there, everyone saw that and was supportive of you no matter where you were from or who you were. 
Once me and Peter and Rebecca found out that they were doing the 'virgin' categories and that they were welcoming anyone, we talked to danah and Marquis, and they were all saying that we should do it. It was really helpful because then Marquis was coming up to us and was helping us, giving us tips and hints and little tricks to try and win the judges over. I remember Cory and Marquis both said, 'Just be yourself.' That was the biggest thing that I remember them saying. 'Just be yourself.' Then they were saying, 'Don't forget the elements. Don't throw those out the window. Keep those in.'"
---
Project director Joseph Plaster worked with a ballroom advisory board and Peabody Library curator Paul Espinosa. Advisory board members include Iconic Sebastian Escada; Legendary Mother Marco Blahnik of the House of Manolo Blahnik; Iconic Londyn Smith De Richelieu (Mother Miyake Mugler); Legendary Enrique St. Laurent; and Legendary Keith Ebony Holt, Father of The House of Ebony. Also offering invaluable guidance were George Ciscle, founder, MFA in Curatorial Practice; Curator-in-Residence at MICA; and Dr. madison moore, assistant professor of Gender, Sexuality and Women's Studies, Virginia Commonwealth University.
This blog post is part of a three-part series. Read part one and part three.
---