In recent years there has been a strong "public turn" within universities that is renewing interest in participatory action research, community-based learning, and collaborative approaches to knowledge creation. Academic institutions increasingly approach their neighbors as partners in research and not simply objects of study. Major foundations, including the Andrew W. Mellon Foundation, increasingly prioritize humanities projects that "encourage the flow of knowledge from universities and institutes into their communities and from their communities into their institutions." But what counts as "knowledge" in the academy? What cross-disciplinary collaborations are made possible when we approach performance and the arts as repositories of knowledge?
These are the questions that launched the Peabody Ballroom Experience, a public humanities collaboration between the Johns Hopkins Sheridan Libraries and Baltimore's ballroom community, a performance-based arts culture comprising gay, lesbian, and transgender people of color. The project aims to cultivate an exchange of knowledge between JHU and ballroom by creating opportunities for faculty, students, staff, and ballroom performers to come together as partners in education. Find more information about the project, directed by Dr. Joseph Plaster, at this blog post, this website, and the project Instagram account.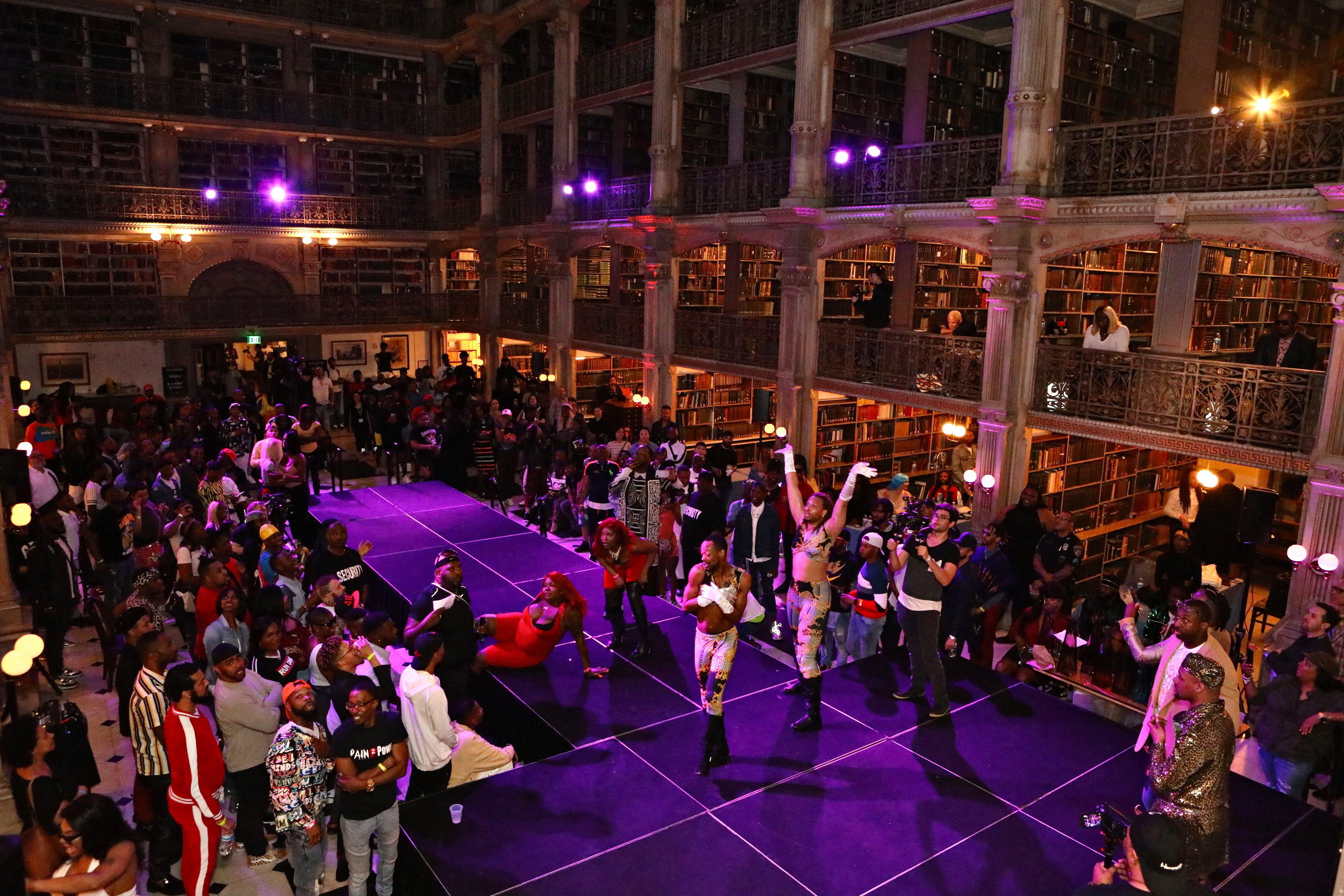 This blog post, the first in a series of three, reports back on an epic ball competition hosted by the George Peabody Library on April 13, 2019. At the event, which drew guest from as far away as New York and Paris, ballroom artists partnered with JHU to interpret the Library's historic collections through costume and stylized performance. The ball was the culmination of months of collaboration between the Johns Hopkins Sheridan Libraries, the Peabody BFA Dance Program, the Johns Hopkins Film & Media Studies MA program, and an advisory committee made up Icons and Legends in Baltimore's ballroom scene.
Veteran voguer Marquis Clanton led four workshops for Peabody BFA Dance Program students. Together, they kicked off the ball with a choreographed performance. Students in the Hopkins Film & Media Studies MA program filmed various project components, as well as the ball itself. They will create two documentary films about the project and screen them for the public in Fall 2019. Project director Joseph Plaster also conducted a dozen oral histories with ballroom participants; they will be transcribed and archived by the Sheridan Libraries. These project components will be outlined in forthcoming blog posts.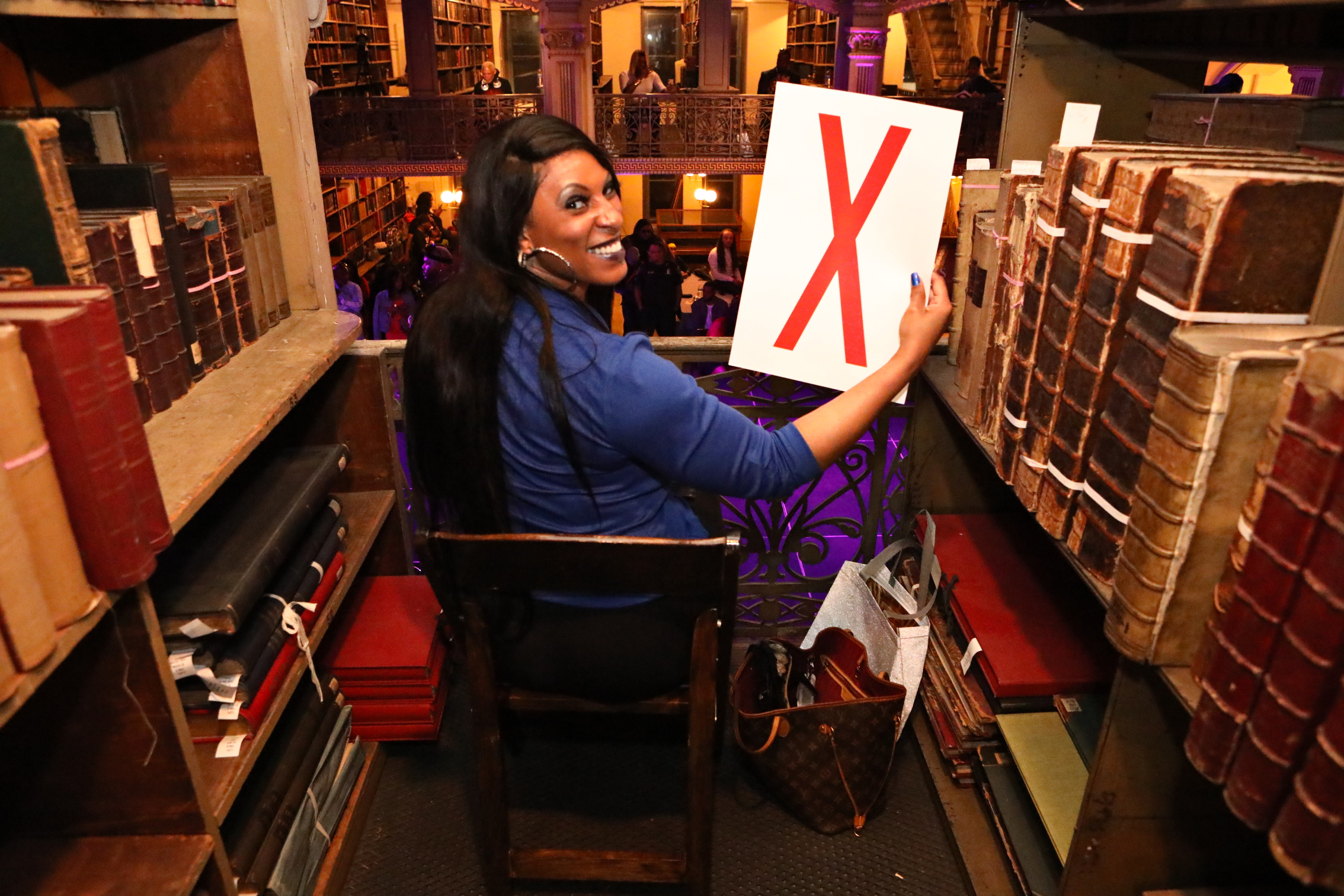 This post outlines efforts to interpret Library materials through ballroom performance traditions, which have existed since the early-twentieth century. The dance form draws from traditions of African American cultural performance. The music, voguer Muhammad Omni writes, "comes from blues, jazz, gospel and funk." Ballroom commentators, or masters of ceremony, are griots, the living archives of ballroom cultural traditions. Most importantly, cultural critic madison moore writes, ballroom has historically been a space "where queer people of color have removed themselves from the gendered and racist politics of everyday life and created their own unique social worlds, allowing them to live out alternative versions of sexuality and gender performance."
An advisory committee made up of leaders in Baltimore's ballroom community and Peabody Library staff co-curated the Peabody ball competition. Library curators began by presenting a selection of the existing collections—comprised of over 300,000 volumes dating from the Renaissance through the 19th century—at workshops and informal gatherings. The advisory committee then selected books and discussed how to interpret them through ballroom performance traditions. The team ultimately co-produced the twelve runway, vogue, and realness categories, outlined here, that comprised the Peabody ball competition.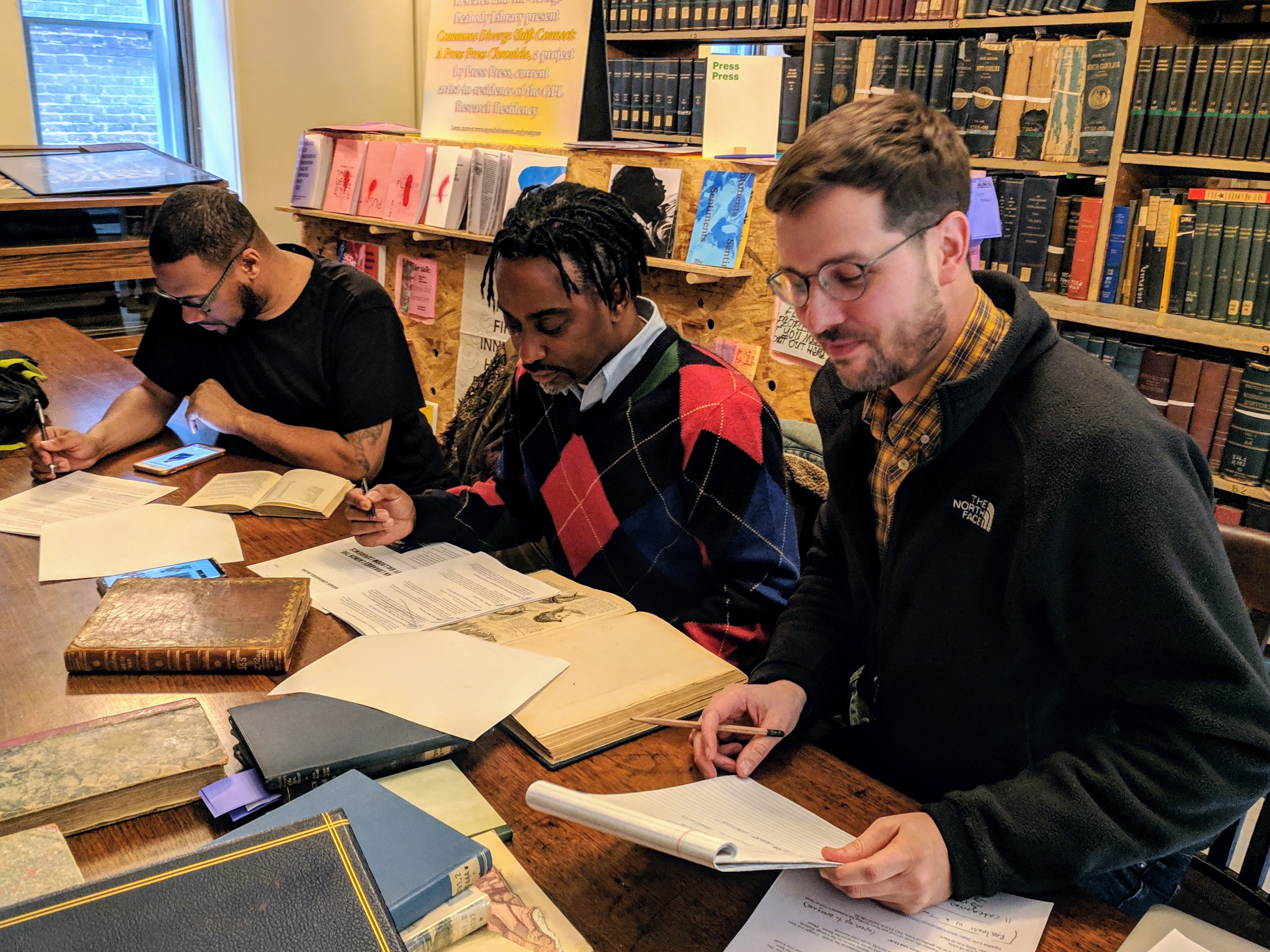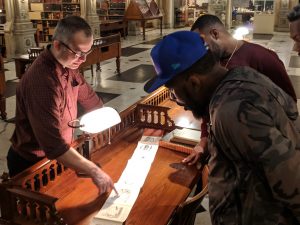 Competitors then researched the books and/or Peabody Library history to prepare their costumes and performances. "What I like about the ball," advisory board member Enrique St. Laurent said, "in the categories where it's [based] off books, people have to do research. So when you're researching, you're reading the book. And when you're reading, you're learning." Legendary Boom St. Laurent agreed. "This is the kind of ball that you had to do research for. You had to find out what this [library] is because we didn't know this was in our city. You had to research just to find out what you're walking and educate yourself."
---
BQ Vogue Fem – "Battle of Heaven and Hell"
Buffy West traveled from Atlanta, Georgia to compete in BQ vogue fem, a dance category based on illustrations from a 1688 edition of Paradise Lost. The category reads: "The epic poem Paradise Lost … written by the 17th-century poet John Milton … explains the story of God and Satan battling for humanity's soul as Satan tempts Adam and Eve in the garden of Eden. Tonight we want you to tell the story of this war between Heaven and Hell."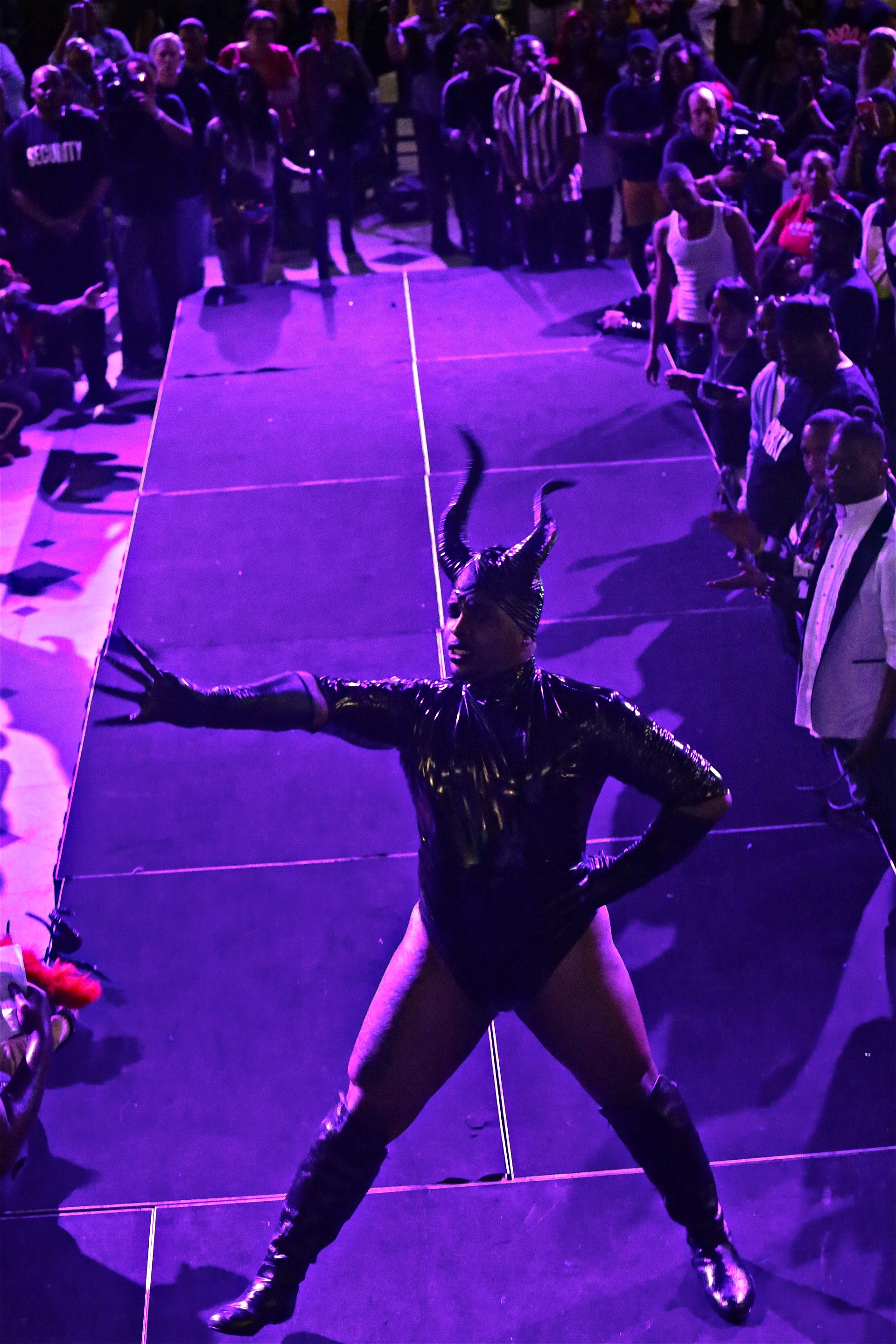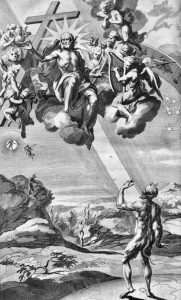 West discussed his creative process in a phone interview:
"I think the main thing that I captured was trying to define the story of the battle between heaven and hell….I read up on a lot of [Paradise Lost] prior to actually walking the ball just to ensure I understood the character. I helped a few people understood what we were actually doing—just making sure that they actually understood that when it comes to the battle between good versus evil, there was emotion tied to it, and there was a long, drawn-out fight. The battle was very intimate and close because you had people that were trying to prevail over good. You have people that are trying to prevail over evil.
The main illustration was the actual demon looking up to the heaven really drew me in for a different feel…[I thought,] 'What type of concept can I give and what type of look will read across what they wanted from back in the day to tie it to somewhat of a new generation?'… Which this where the latex came from, the long nails, [and] my Maleficent hell horns."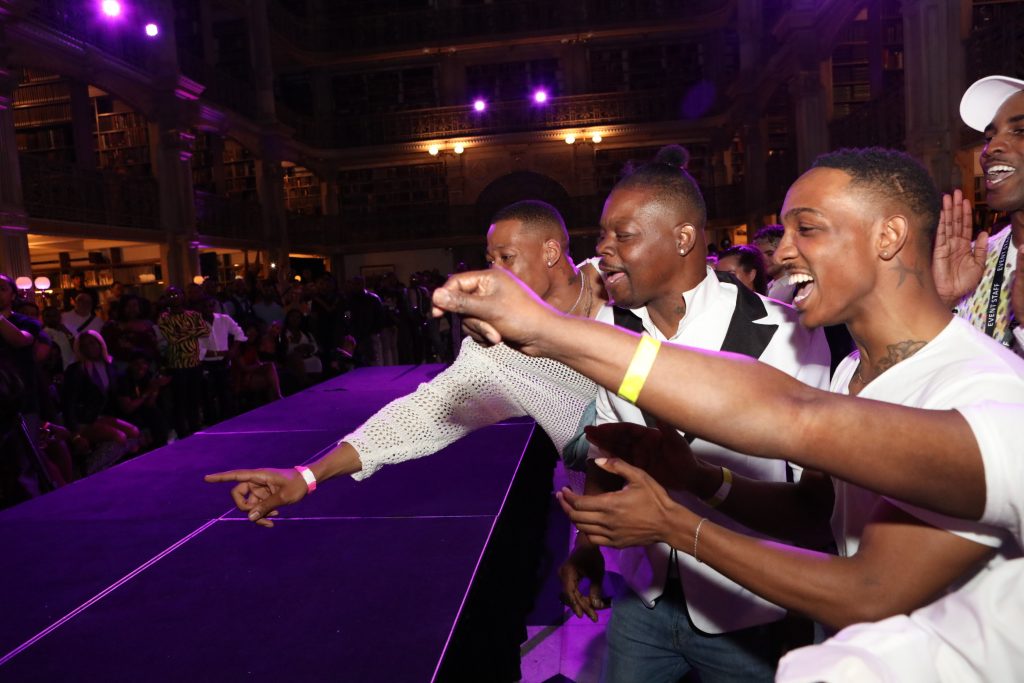 "Telling your story and getting prepared, you wanna think about what looks godly? What movements can you do to represent somebody that's battling the Devil or battling hell or demons that could be included in your performance while getting your tens. Then the same thing for hell. We had a discussion: make sure you tell a story. You want your little details as far as your effect, like with [my house member], walking on stage with his head cut off with the knife, that gave like, 'I just got off the battle ground. I won. Now, let me show you I can continue on.' The same thing with me, it was more trying to get across to say, 'Hey, my battle is not over. I'm here. So, I want the war to start. Let's go. I got all day.'
I've been in ballroom since 2011. I've never been to a fab venue like that. What I mean by fab, I mean fabulous, wonderful. It gave us a different side of ballroom to be around so much history and being able to take that in. This makes moments for people that really hold it dear to their heart. You guys give us a platform and the space to really share our talent. I'm pretty sure that was a lot of peoples' first ball or first ball interaction and being able to watch it. That's where we go to say, 'Hey, this is what I do on a regular. Let me invite you into my world.' It just bridges gaps and it informs new interests."
---
Executive Realness
Janol Balenciaga competed in "Executive Realness," a category that has been a part of ballroom culture since at least the 1980s.The Peabody ball category reads: "Executives don't always have to wear a suit. Tonight we simply want to see your interpretation of an executive. However you must have information about the Peabody Library as you plan to buy the library." Inspired by Apple's decision to refurbish and open a store in Washington DC's Carnegie Library, Balenciaga arrived with a copy of a faux-Wall Street Journal article that read, "Apple CEO Janol Balenciaga will Transform Peabody Library into an Apple Store."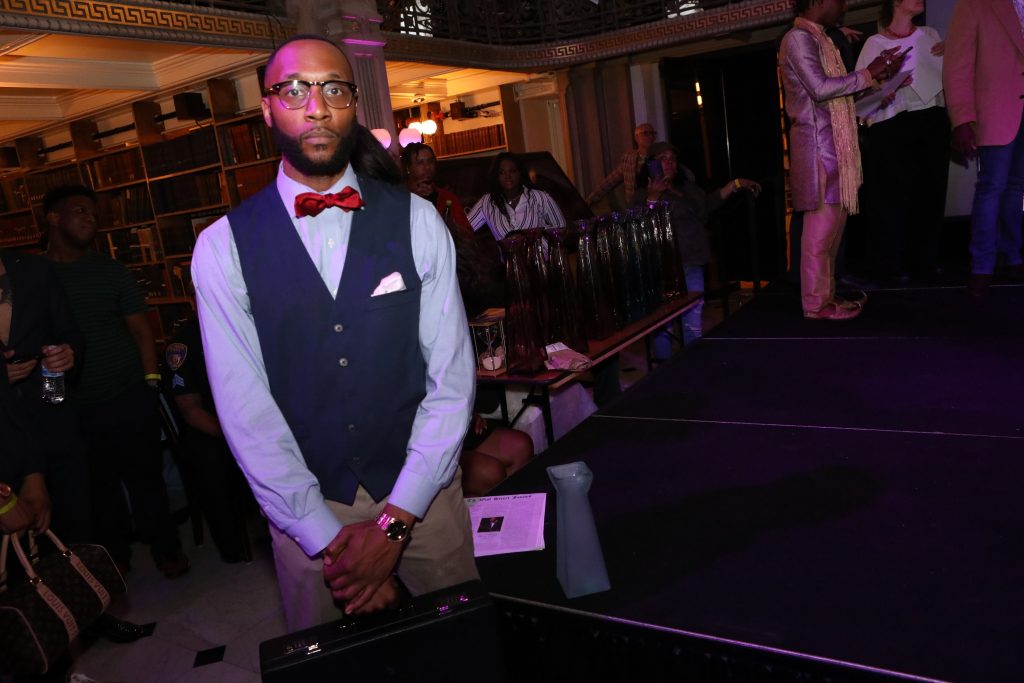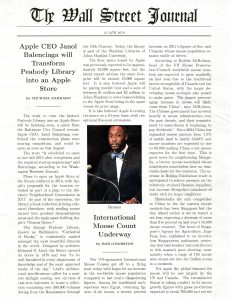 Balenciaga explained his creative process in a phone interview:
"I'm a high school counselor. My day-to-day is solely focused on getting young, black and brown, poor kids into college. I definitely value the concept of professionalism and finding ways to allow that to manifest in ways that are natural to me. So 'Executive' really gives me an opportunity not only to showcase what I do on the day-to-day and what feels really organic to me, but it also challenges me depending on the category.
So for instance, the Peabody Ball, it calls for us to not bring it like what the everyday executive would look like. So keeping the suit at home, but also showing that you have information on the Peabody Ballroom as you plan on buying it. So I got to learn about the Peabody. I learned that it is one of the premier libraries in Baltimore, and really one of the premier libraries in the country. I learned more about Johns Hopkins. I'm a history buff in general. So it all correlated to things that I'm naturally interested in.
I had to talk to my house father and he gave me some advice on the direction that I should move in, and then I took some of his ideas and capitalized off that. And then, boom, I'm gonna create my own newspaper and I'm going to be the CEO of Apple and I'm going to turn the Peabody into an Apple Store. [I] totally would not want that to happen in real life, but I thought it would be something fun, something that the judges and the Peabody would be like—oh, like he actually took the time to think of a different way to portray what his interpretation of an executive should be for this ball.
The fact that I was able to be in a space where all my identities were once not welcomed, it was kind of like a moment where I was like, 'damn, I'm like sticking it to the man right now.' Like this is what it's all about. This is what ballroom is about. Like this is what being a queer, black man is about. Showing up in spaces where we're not always welcome or where we're not the norm. The ball was like a symbol of our community becoming the norm."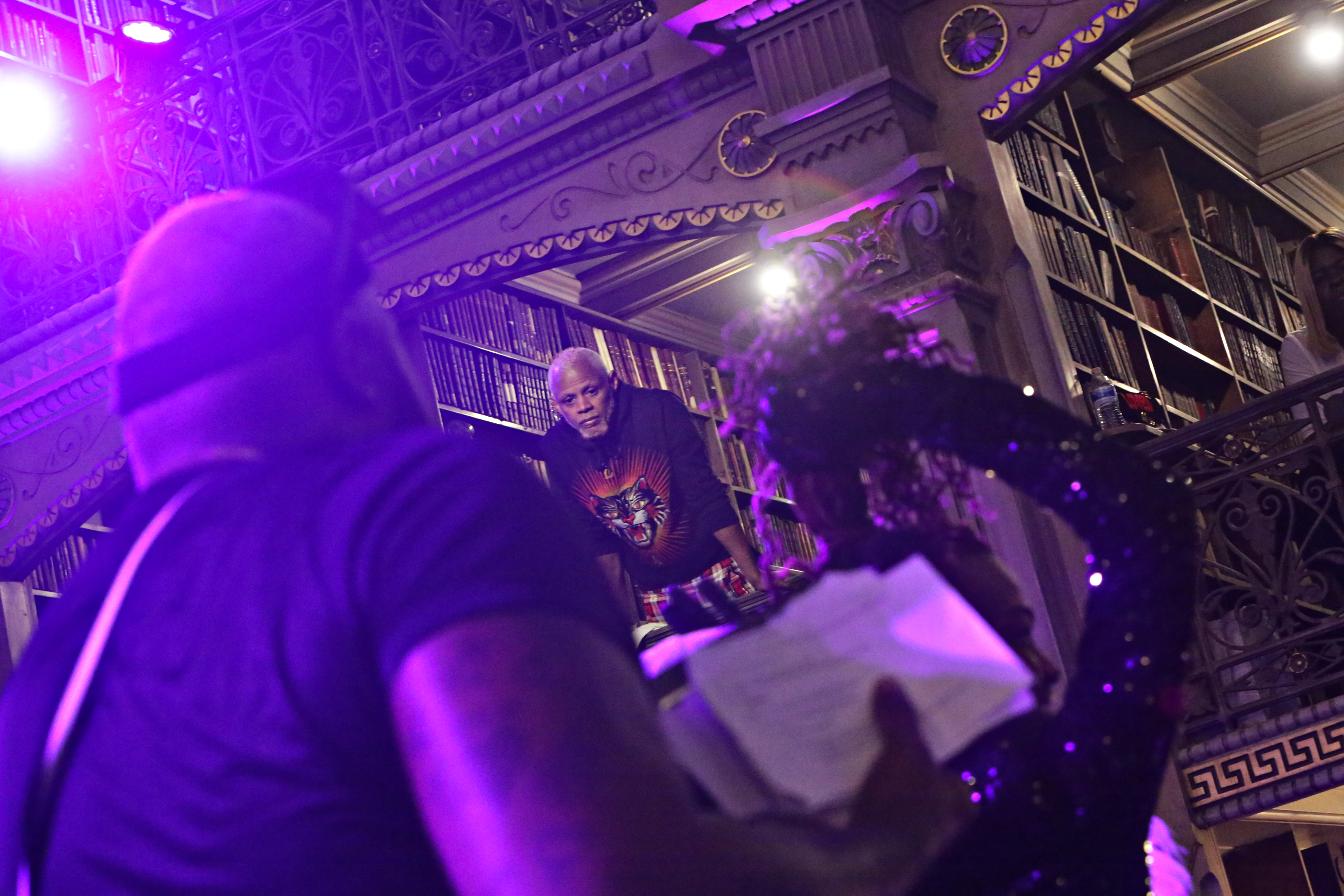 "The purpose of ballroom is for you to have a community which you find through your ballroom house, through your ballroom family, through the participants in ballroom. The purpose of ballroom is to truly love who you are as a black and brown, queer or trans person. It's also a space where you are challenged to grow. The skills that you have, you can hone all those skills and those can help you progress in different facets of life. It's really like an underground community that supports you in different facets of life that expand beyond ballroom.
I took away the purpose [of the ball] to bridge the gap and start conversations on how Johns Hopkins can show up to be a greater ally for our community, recognizing the privilege that the institution has and knowing a lot of the challenges that our community faces. Knowing that there are a lot of challenges that continue to stifle our community, I really felt like the institution wanted to be an active change agent in that."
---
OTA Runway – "You are What you Read"
MeMe West Milaga traveled from the Bronx, New York to compete in "Open to All Runway." The category directed competitors to "make your own moment using only items that you would find in a library." West wore a body suit made out of newspapers and maps and wore a gorgeous book headpiece. The Sheridan Libraries plans to archive the headpiece along with other costumes.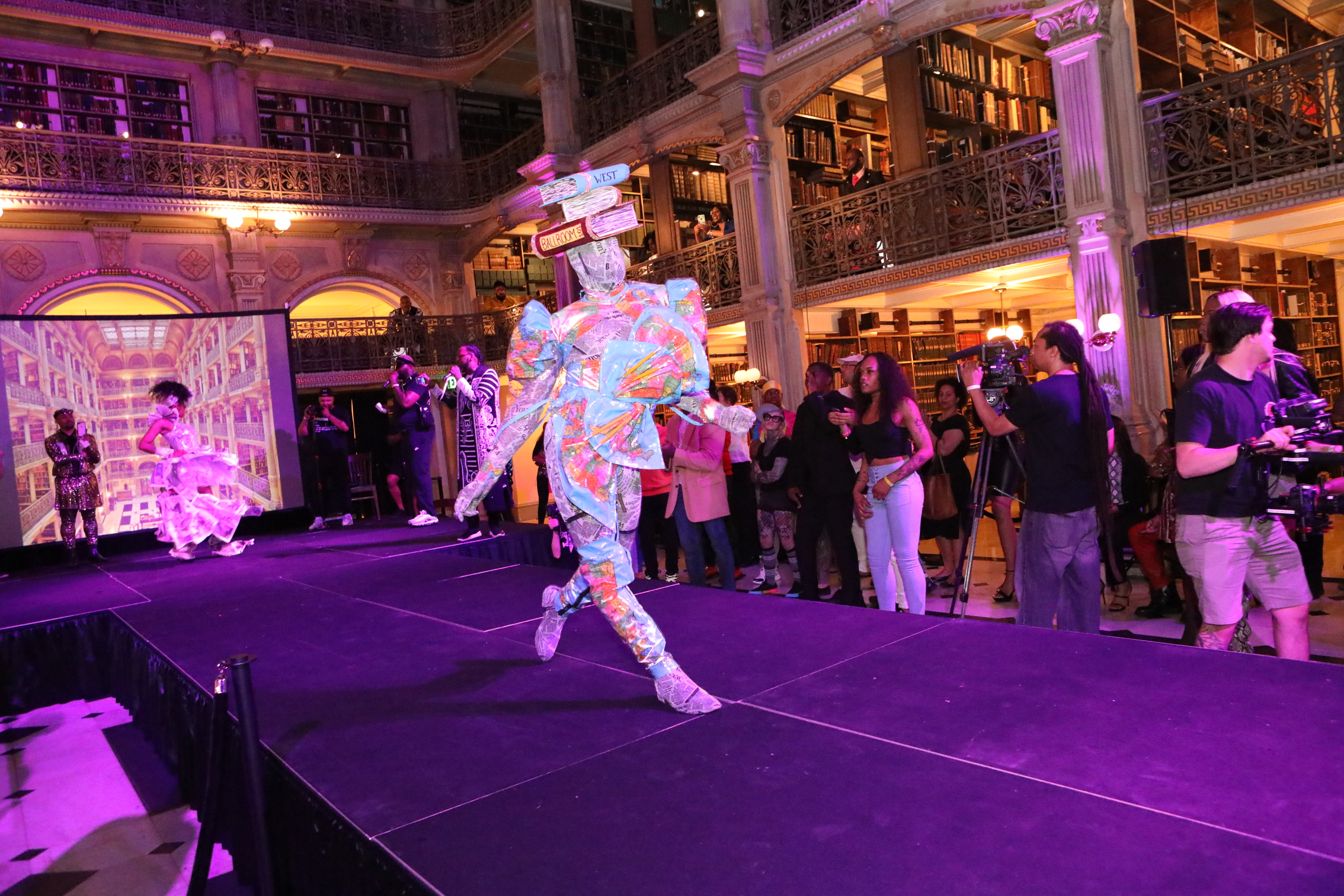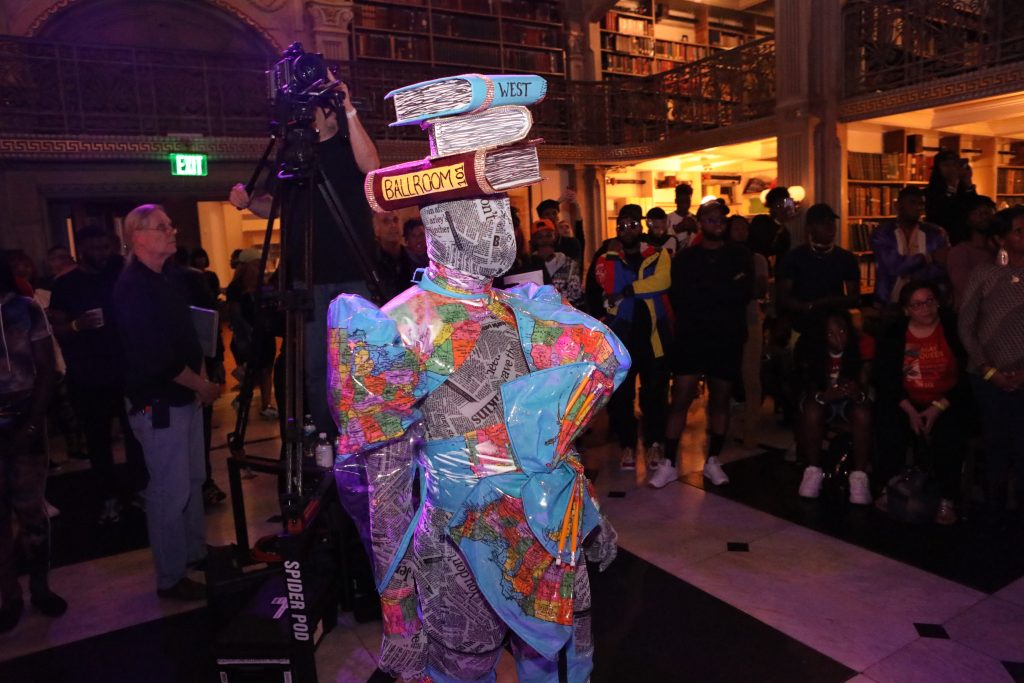 ---
Project director Joseph Plaster worked with a ballroom advisory board and Peabody Library curator Paul Espinosa. Advisory board members include Iconic Sebastian Escada; Legendary Mother Marco Blahnik of the House of Manolo Blahnik; Iconic Londyn Smith De Richelieu (Mother Miyake Mugler); Legendary Enrique St. Laurent; and Legendary Keith Ebony Holt, Father of The House of Ebony. Also offering invaluable guidance were George Ciscle, founder, MFA in Curatorial Practice; Curator-in-Residence at MICA; and Dr. madison moore, assistant professor of Gender, Sexuality and Women's Studies, Virginia Commonwealth University.
Additional blog posts explore our collaboration with the Peabody BFA Dance Program and the oral history project.
---
This project is funded by the Andrew W. Mellon Foundation, under the auspices of the Sheridan Libraries. The Peabody Institute BFA Dance program funded dance workshops; the Johns Hopkins Harriet Lane PrEP is for Youth Program and PUSH Study co-sponsored ball competition prizes.