Sheridan Libraries and Hopkins Dining partner to bring dining dollars to the library's coffeehouse.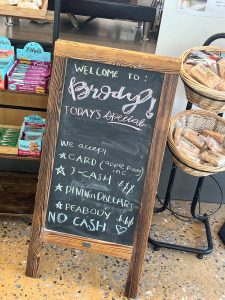 A new partnership between the Sheridan Libraries and Hopkins Dining allows students to use their dining dollars at the Brody Learning Commons, which was a frequent request from students using the library. The change comes following the addition of Brody Café to the dining program's umbrella of food retail operations.
"I am always looking for ways to improve the experience students have while in our spaces," said Elisabeth Long, Sheridan Dean of University Libraries, Archives, and Museums. "The collaboration with Hopkins Dining will also ensure Brody Café meets the highest standards of service and quality and offers a variety of food options for all our library patrons."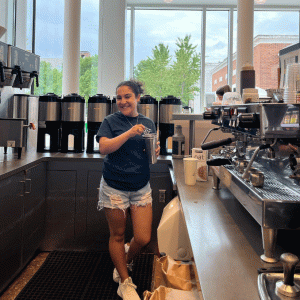 The café is an outpost of the Daily Grind and its hand-roasted coffee, selected and processed daily at a micro-roaster in the city, has earned the title of "best coffee on campus."
In a recent interview with The Johns Hopkins News-Letter, sophomore Maria Thomas shared her appreciation for the change. "It's better because I get coffee in the morning, and now I can get Brody Café using dining dollars," she said.
The Daily Grind locations at Brody and Mudd Hall join other Homewood campus food retail options that are part of Hopkins Dining, including Piccola Allora Café at Gilman Hall and Good Part & Co. at the Ralph S. O'Conner Recreation Center.
Follow Brody Café on Instagram and for hours of operation go to the Brody Learning Commons webpage.
Library patrons are asked to follow the food and drink guidelines and bring covered drinks only beyond the security turnstiles.