Enjoy this post by Victoria Popoola, one of our Special Collections Freshman Fellows for the 2022-2023 academic year!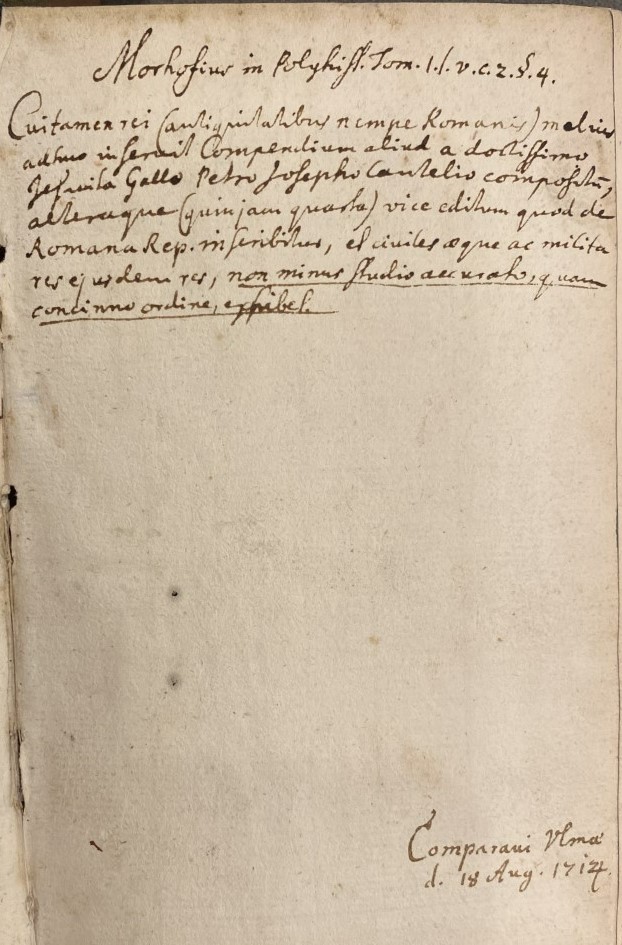 Hello! My name is Victoria Popoola, and I am studying Mechanical Engineering at the Whiting School of Engineering. This year, as a Freshman Fellow, I wanted to combine my love for Latin and Roman culture with my ambitions as an engineer. I found the perfect way to do this was to explore untranslated works in Latin on aqueducts in the Sheridan Libraries.
So far, I have been focusing on marginalia and annotations in the relevant works my mentor (Mack Zalin) and I have found in special collections. Although some of these works have been translated before, the likelihood of additions to the books (maps, annotations, dimensioned drawings, etc.) also having been translated is slim. Below is a note made in Latin by a former owner of JHU's 1707 edition of De romana republica (About the Roman Republic) by Pierre Joseph Cantel. In this note, a former owner compares Pierre Joseph Cantel's work to Daniel Georg Morhof's Polyhistor (a work he had previously read) and compliments Pierre Joseph Cantel on how detailed and well-written his work is.
Next, I plan to dive deeper into the contents of the works that we have been looking at, and their relations to my original goal. I am interested both in how the author describes aqueducts and their functions in Roman society, both in-text and through drawings, as well as how other owners have perceived or commented on the piece (although, currently, I am searching for the particular section in Morhof's Polyhistor that the aforementioned owner was referring to when he made a note about De romana republica).