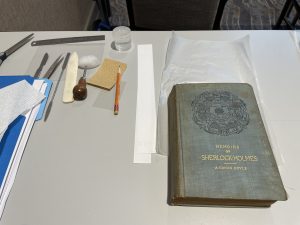 In late March, I had the opportunity to attend the Mid-Atlantic Regional Archives Conference (MARAC) spring 2022 meeting in Harrisonburg, Virginia. MARAC's goal is to support archivists from across the mid-Atlantic region, providing resources for accessible education and professional collaboration as well as advocating for increased diversity and inclusion. Each semi-annual meeting features a theme guiding conversations on current challenges or successes facing our profession. The theme for this meeting was "Communities Big and Small." Not only does this theme reflect ongoing conversations about the state of the profession, but also the growing movement to bring both professionals and the public we serve together in doing archival work.
One of the major topics throughout the conference program was the balancing act archivists face between our goals and the realities of small budgets and staffing. Even at large institutions, archivists often have to wear many hats. One moment you may be processing collections and another you may be managing donor relations. Other moments you may be developing disaster management plans and responding to a pandemic. Fortunately, one of the benefits of being part of a robust professional community is that there are plenty of colleagues to learn new skills and approaches from. At the conference I attended a workshop on book stabilization techniques where I learned how to stabilize cover damage. I never had the opportunity to do hands-on conservation during my MLIS program, so I was excited to finally have the chance to learn (and even more excited to keep the books I practiced on!).
I was also able to attend a roundtable discussion called "Best Practice or Best We can Do?" where speakers shared their experiences in doing the best with what they have. Not only was it interesting to hear their discussion about making choices for when to follow industry best practice and when to be more practical, but to hear the acknowledgement that it's ok to push back against the expectation to do more with less. Archival work involves financially, emotionally, and physically intensive labor. It requires time to properly build trusting relationships with donors and researchers on top of caring for the diverse materials we work with. It is encouraging to see greater pushes to share the labor by working together with community groups and partner institutions, or just allowing ourselves to say no to projects we wouldn't be able to meaningfully support.
The importance of partnering directly with community groups and individuals was especially emphasized throughout the rest of the conference, best put into words by the plenary speaker Zakiya Collier: "things are done better in community and conversation." Archives aren't neutral spaces and are heavily influenced by the biases of professionals and their home institutions. These biases have resulted in long histories of exclusion that archivists must actively work to repair. Reparative work can involve approaches like sharing professional authority/resources with local community archives to keep collections within their own groups, or bringing donors into conversation about how to describe and ensure access to their own materials.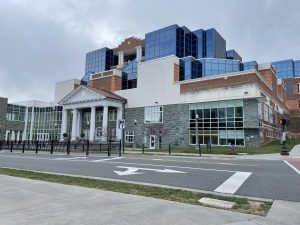 An example I think is particularly relevant to our community at Hopkins was the workshop I attended called "Reclaiming, Repairing, Renaming: Collective Archivism and Campus History." In the workshop we toured James Madison University's campus and discussed JMU's history of racism on campus and the university's relationship with different groups within Harrisonburg. We learned about successful campus community efforts to rename university buildings named after Confederate figures, but also discussed how the university has failed to actively acknowledge and reckon with racist history in other buildings like the Student Success Center and Memorial Hall, formerly Harrisonburg High School.
When we visited with JMU's Special Collections staff to look at related materials, our group had a thoughtful discussion about archivists' roles in dealing with the hard histories our communities must deal with. How should we describe problematic materials that have racist imagery/language? How can we build trust with underrepresented groups on campus and amplify their voices? How should we approach messy university histories that are both celebratory and painful? No one had definitive answers, but being able to have honest discussions about where we are and what we can do moving forward is a good start to building a more inclusive campus.
On the whole, I thought the MARAC meeting was a great learning experience. Not only did I come away with new practical skills, but with a better understanding of how much work archivists are doing to address difficult topics within our profession in addition to the history we work with. I'm excited to be a part of this work and I'm look forward to seeing where it goes from here.