Posts in this series were written by undergraduate students in the spring 2020 Museums & Society class Scribbling Women: Gender, Writing, and the Archive. We used rare books, archival materials, and digital primary sources in the Sheridan Libraries' collections to prompt and guide inquiries into the creation, reception, preservation, and legacy of texts from the 1820s through the 1930s—speeches, private writings, and published poetry, fiction, and journalism—by North American women who brought attention to race-, gender-, and class-based inequities. Through their short essays, bibliographies, and analyses of digital sources, students are providing to a broad audience accurate information about and appreciation for the "scribbling women" they studied. For more about our series title, please see the first post. For more about our public-facing work, please see our gallery of final projects and blog.
Today's post is by Rudy Malcom, Class of 2021, a Writing Seminars major.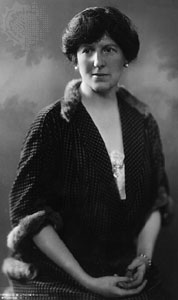 Portrait of Alice Duer Miller by an unknown photographer, date unknown. From the Alice Duer Miller Papers, Collection BC-17-Photographs, Barnard College Library, via Wikimedia.
On July 28, 1874, Alice Duer Miller—who, through her feminist poetry, would grow up to influence political opinion and the suffrage movement—was born to wealthy parents in New York City. Miller grew up on the family estate in Weehawken, New Jersey. However, a banking failure depleted the family fortune. In changed circumstances, she sold stories, poems, and essays to Scribner's and Harper's magazines to finance her mathematics studies at Barnard College, from which she graduated in 1899, the same year she married the Wall Street broker Henry Miller. Until 1903, they lived in Costa Rica. Even after returning to New York, the sales of her stories were the family's primary source of income. Her first successful novel, Come out of the Kitchen, and what many consider to be her best, the verse novel Forsaking All Others, were published in 1916 and 1931, respectively. During the 1920s and 1930s, she contributed to many Hollywood screenplays, and a number of her stories were adapted into motion pictures, including The White Cliffs of Dover (1944), based on her verse novel The White Cliffs of 1940. Winston Churchill believed the novel played an important role in encouraging the American public to enter World War II. The book was reissued in 1941, 1942, 1943, 1944, 1945, 1946, and 1949, in the United States and England; during the war years alone, over 700,000 copies were sold.
Miller is best known now, however, for her series of satirical pro-suffrage poems in the New-York Tribune, published from 1914 through 1917 under the heading "Are Women People?" Some of these poems were published as a book with that title in 1915, with a sequel (Women Are People!) in 1917, and the phrase became something of a feminist mantra.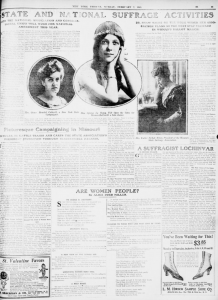 New-York Tribune, February 07, 1915, page 11, with "Are Women People?" by Alice Duer Miller. From Chronicling America: Historic American Newspapers, Library of Congress.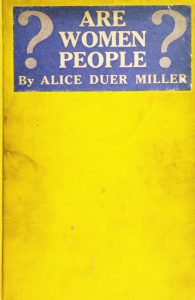 Cover of Alice Duer Miller, Are Women People? New York : George H. Doran, 1915. From Cornell University Library via Internet Archive.
The poems make their pro-suffrage points with a biting wit, often by exposing the holes in the anti-suffrage arguments, as in the "listicle" poem, "Why We Oppose Pockets for Women." Here's an excerpt:
1. Because pockets are not a natural right.
2. Because the great majority of women do not want pockets. If they did they would have them.
3. Because whenever women have had pockets they have not used them.
4. Because women are required to carry enough things as it is, without the additional burden of pockets.
5. Because it would make dissension between husband and wife as to whose pockets were to be filled.
6. Because it would destroy man's chivalry toward woman, if he did not have to carry all her things in his pockets.
Miller belonged to both the Congressional Union for Women Suffrage, which often demonstrated outside the White House, and the group of writers called the Algonquin Round Table, of which she was the eldest member. She also served as an advisory editor for the first issue of The New Yorker. Alice Duer Miller died in 1942, after many decades of political and commercial success. Despite her achievements, her work is not well known today—perhaps because of its mostly popular orientation.
First Editions
Miller, Alice Duer. Are Women People?: A Book of Rhymes for Suffrage Times. George H. Doran Company, 1915.
—–. Barnard College: The First Fifty Years. Columbia University Press, 1939.
—–. The Beauty and the Bolshevist. Harpers & Brothers, 1920.
—–. Calderon's Prisoner. Scribner's Sons, 1903.
—–. Come out of the Pantry and Other Tales. Phillip Allan, 1936.
—–. Forsaking All Others, A Story by Enid Bell. Simon & Schuster, 1932.
—–. Gowns by Roberta. Mead & Company, 1938.
—–. I Have Loved England. G.P. Putnam's Sons, 1941.
—–. Instruments of Darkness and Other Stories. Grosset & Dunlap, 1926.
—–. Less than Kin. Henry Holt & Company, 1909.
—–. The Modern Obstacle. Langton & Hall, 1905.
—–. The Priceless Pearl. Grosset & Dunlap, 1924.
—–. The Reluctant Duchess. Mead & Company, 1926.
—–. The White Cliffs. Coward-McCann, Inc., 1940.
—–. Women are People!. George Doran Company, 1917.
Selected Later Editions
Miller, Alice Duer, and Nina Valentine. Forsaking All Others. Hear-a-Book, 1984.
—–. Are Women People?: A Book of Rhymes for Suffrage Times. Nabu Press, 2010.
—–. Come Out of the Kitchen!: A Romance. Hardpress Publishing, 2012.
—–. The Beauty and the Bolshevist. Nabu Press, 2012.
—–. Forsaking All Others: A Story. Simon & Schuster, 1933.
—–. Manslaughter. BLURB, 2017.
—–. The White Cliffs. Benediction Classics, 2012.
Archival Holdings
Alice Duer Miller Papers, 1779-1949; Box and Folder; Barnard Archives and Special Collections, Barnard Library, Barnard College. http://collections.barnard.edu/public/repositories/2/resources/355.
Agnes Morgenthau Newborg Papers, Sophia Smith Collection, Smith College, Northampton, Mass. https://findingaids.smith.edu/repositories/2/resources/642.
Selected Film Adaptations and Screenplays

And One Was Beautiful (1940)
Are Parents People? (1925)
Come Out of the Kitchen (1919)
Irene (1940)
Ladies Must Live (1921)
Manslaughter (1930)
Roberta (1935)
Someone to Love (1928)
Spring in Park Lane (1948)
Valencia (1926)
You can see all of Miller's film credits, including her bit role in the 1936 comedy Soak the Rich, at her IMDB filmography.
Additional Sources Consulted
"Alice Duer Miller." Encyclopedia Britannica. https://www.britannica.com/biography/Alice-Duer-Miller
"Alice Duer Miller." Spartacus Educational. https://spartacus-educational.com/Palice_duer_miller.htm
"Alice Duer Miller." Wikipedia. https://en.wikipedia.org/wiki/Alice_Duer_Miller
Chapman, Mary. "'Are Women People?': Alice Duer Miller's Poetry and Politics." American Literary History, vol. 18, no. 1, 2006, pp. 59- 85. https://www.jstor.org/stable/3568047.
Miller, Henry Wise. All Our Lives: Alice Duer Miller. Coward-McCann, 1945.
"Miller, Alice Duer." Encyclopedia.com. https://www.encyclopedia.com/arts/news-wires-white-papers-and-books/miller-alice-duer
"Miller, Alice Duer (1874–1942)." Encyclopedia.com. https://www.encyclopedia.com/women/encyclopedias-almanacs-transcripts-and-maps/miller-alice-duer-1874-1942
Walker, Nancy. "American Women Humorists." Tulsa Studies in Women's Literature, vol. 1., no. 1, 1982, p. 87. https://www.jstor.org/stable/464096.