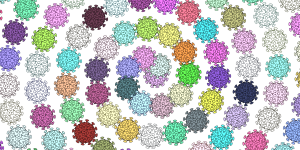 JHU COVID-19 Publications is a collection in JScholarship, our institutional repository, that provides a space for faculty to deposit their work that is related to COVID-19. 
At first this was envisioned as a subset of the peer-reviewed journal articles faculty make openly available to support the Johns Hopkins Open Access Policy. It became immediately apparent that faculty are writing about COVID in other outlets including policy papers, newspaper or magazine articles, and items in other public-facing sites. 
I should also emphasize that this collection is not limited to medical information. COVID-19 affects all aspects of our lives and we want research from across the divisions to be represented in this collection. As I write this, the collection contains just a few items, I hope it will grow swiftly. 
Faculty can deposit their work in one of two ways. 
Journal articles can be submitted through PASS. Clicking the COVID-19 checkbox in the yellow banner will direct your paper to the COVID-19 collection. 
Other items need to be submitted manually. Robin Sinn can submit for you. Please contact her at rsinn@jhu.edu.