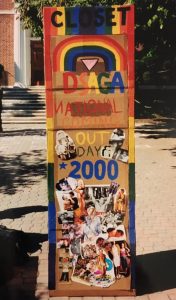 In May, Hopkins Retrospective had the opportunity to transition its traditional Alumni Weekend programming to a virtual platform. Although disappointed we couldn't host the in-person panel discussion and bustling reception because of the pandemic, we remembered hosting something online would allow for a wider audience and create a more long-lasting record of what we like to call #HopHistory. It was our hope that this event would raise awareness and contribute in meaningful ways to a shared sense of identity for the LGBTQ community at Johns Hopkins.
With the support of the LGBTQ Life Office and the Johns Hopkins Alumni Association and encouragement from the JHU Pride Affinity group, we hosted an incredible panel of speakers in a session called "Reflections: LGBTQ History at Hopkins." As always, Dr. Bill Leslie kicked off the event with introductory remarks about to his archival research and writing on the history of Hopkins. Our speakers Isabella Altherr, Sabrina Scarborough, and Dr. Carl Streed Jr. answered questions that allowed them to elaborate on their experiences as students and staff at Hopkins, whether it was at Homewood, the School of Nursing, or the School of Medicine. As you'll find out from their reflections, life hasn't always been easy for LGBTQ folks at Hopkins, however, all of the speakers commented on seeing the evolution and development of programs, resources, and spaces that have supported and continue to care for their community. You can read more on each speaker below. Throughout the panel, Hopkins Retro shared photographs of records from the Diverse Sexuality and Gender Alliance (DSAGA) collection, some of which are now available on our Facebook page. The collection consists of primarily consist of meeting minutes, executive board manuals, correspondence, broadsides, and other materials created by DSAGA between 1986 and approximately 2017 and is available for consultation in the Special Collections Reading Room.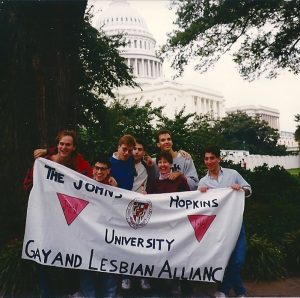 The panel discussion is now available on YouTube. 
---
Our Speakers:
Isabella Altherr (KSAS '19) is a Program Assistant at Maryland Humanities. As a student, she served on the board of the Diverse Sexuality and Gender Alliance for three years, including two as co-president. She graduated with a BA in Classics and a minor in Museums & Society.
Sabrina Scarborough is the Associate Director, Campus Operations for the Johns Hopkins School of Nursing. She has been with JHU since 1997. She received her degree in Criminal Justice and Emergency Management and is currently taking classes in the Master of Liberal Arts from Advanced Academics Program. Sabrina facilitates Safe Zone and Transgender Awareness trainings for Johns Hopkins and received the 2016 Diversity Recognition Award from the Johns Hopkins Diversity Leadership Council (DLC).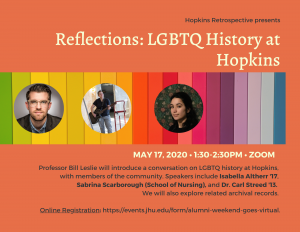 Carl Streed Jr. MD, MPH, FACP is an Assistant Professor in the Boston University School of Medicine. After attending medical school and residency in Internal Medicine at Johns Hopkins he completed fellowship in General Internal Medicine at Brigham & Women's. He served as the chair of the American Medical Association Advisory Committee on LGBTQ Issues and on the board of GLMA: Health Professionals Advancing LGBTQ Equality. Carl's efforts to improve the health and well-being of sexual and gender minority individuals and communities have earned him several awards. As the Research Lead for the Center for Transgender Medicine and Surgery at Boston Medical Center he collaborates with researchers, physicians, and staff to assess and address the health and well-being of transgender and gender diverse individuals.