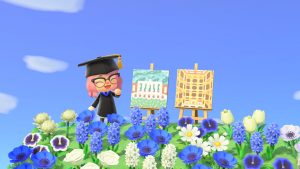 As we continue through the 10th week of quarantine, I, like many others, have found a comfort in the routine, and escapism, brought by Nintendo's beloved IP, Animal Crossing in its newest iteration, Animal Crossing: New Horizons, which was released in the US on March 20th, right as lockdowns expanded and tightened throughout the country.
What is Animal Crossing you may ask?
For the unaware, Animal Crossing is an open-ended video game series in which the player character is a human being living within in a village inhabited by a variety of anthropomorphic animals, carrying out various activities such as fishing, bug catching, fossil hunting, and flower planting/breeding while maintaining and supporting your digital community in a world that follows real time. In Animal Crossing: New Horizons, your character/avatar has decided to settle down on a deserted island, starting with just you as the inhabitant, and expanding to a final group of 11.
Your ability to control your environment has become even more advanced in this version of the game, with the ability to terraform, waterscape, and lay paths down (which characters can follow as movement guides). You can make your island as simple or complicated as you desire, and can customize your environment and belongings with community created designs, or even your own!
In a period where many people have excess time on their hands, lack control over their environment, and cannot go out to events, restaurants, or visit friends, this video game has become akin to a movement: Animal Crossing has been used as a form of entertainment by millions. Animal Crossing: New Horizons is the top Nintendo Switch title in lifetime digital sales/digital revenue after only 2 months on the market.
Users have used Animal Crossing to host "weddings", birthday parties, social gatherings, and recreate spaces that they cannot currently occupy. As a reminder of student's "home away from home," we encourage students, faculty, and staff alike to use the following  codes to bring a little of Johns Hopkins University and the Sheridan Libraries to your Animal Crossing island. Be sure to come back to this post, as more custom creations from yours truly will be added here as they are made!