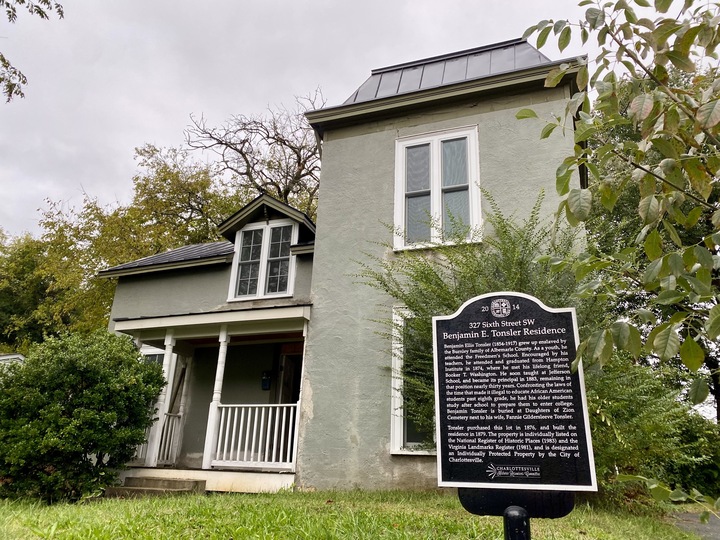 In my last post, I wrote about what we know about Fannie Gildersleeve Tonsler based on the documentary evidence provided in census records, her marriage license, and other administrative records. I noted, however, that there are many things we don't yet know, and some things that we can never know due to the fact that Fannie was unable to write, according to the US census. We will never know firsthand her reason for naming two of her sons, Basil and Gildersleeve Tonsler, after the father who (as far as I know) never publicly acknowledged her. Some things, though, could still be answered either in written records or through family and community histories that have been passed down over the years.

Many of the open questions I (and others like classicist Judith Peller Hallett and the Preservers of the Daughters of Zion Cemetery) have about Fannie's life surround her mother Emily Monroe, whose name I've only seen once in a record. Was Emily Monroe the only name she went by? If she was enslaved, as seems likely given the fact that she was a Black woman in Virginia before the American Civil War, who was her enslaver, and what was their connection to Gildersleeve? Under what circumstances did Emily encounter Gildersleeve?
While on a research trip to Richmond, Virginia with Hopkins Retrospective's Historian and Education Coordinator Monica Blair, we spent a day at the Library of Virginia, and I searched the Albemarle County birth records housed there on microfilm. The records from 1859 and 1860, when Fannie was most likely born, are on reels 227 and 63. I combed through the records for 1859 and skimmed through 1860 as well, and while there were no entries that I could definitively identify as Fannie Gildersleeve Tonsler, there were multiple girls listed named Fannie or Fanny.

One entry in particular stood out, even if all of the details do not quite match some of the other records about Fannie. A girl named Fanny (with a y rather than an ie) is listed as born in Charlottesville in December 1859 to an enslaved mother named Nancy (not Emily), and her enslaver is listed as John B. Minor, a law professor at the University of Virginia. Minor worked with Gildersleeve at the University of Virginia for 20 years, the entire length of Gildersleeve's career there.

I shared this information about a baby girl named Fanny whose mother was enslaved by John B. Minor with Judith Hallett, who found out that John B. Minor's second wife was Anne Colston, a name that caught her eye because Basil Gildersleeve's wife's name was Elizabeth Colston. I did a bit more research and found that Anne Colston Minor was Elizabeth Colston Gildersleeve's paternal aunt (Anne was the sister of Elizabeth's father Raleigh T. Colston). Basil Gildersleeve and John B. Minor were therefore related by marriage, although not at the time of Fannie's birth, as Basil Gildersleeve and Elizabeth Colston married after the Civil War. My Hopkins Retrospective colleague Monica found a tax list from 1863 that names the people John B. Minor enslaved, including Nancy. The list does not include Nancy's daughter Fanny, however, which opens up another (as yet unanswered) question of what happened to her. The possibilities are all heartbreaking – she may have died, or been sold to another enslaver or otherwise separated from her mother. If the latter is true, she could have grown up to be Fannie Tonsler.
It is possible that Fannie Tonsler was born somewhere other than Albemarle County, Virginia, of course. It is also possible that she was one of the girls born in 1859 or 1860 whose name was not recorded, or perhaps her birth was not documented in the county birth records at all. Other personal papers or family records might be able to provide additional evidence, but those records may not exist. This does not mean, however, that we cannot continue to piece together information about Fannie's life from both written records and oral tradition.
While we will never be able to know Fannie Gildersleeve Tonsler on her own terms, in her own words, I am committed to learning as much as I can about her life from as many sources as possible. So much was written about her father Basil Gildersleeve during his lifetime and after his death nearly 100 years ago. It is long past time that archivists, historians, and classicists at Johns Hopkins and the University of Virginia, the two institutions Gildersleeve is most closely associated with, focus our research and writing on Fannie Tonsler's life.