Historian Willie Lee Rose (1927-2018) is well known for her contributions to the study of Reconstruction in post-Civil War America, as well as her advocacy for women in the academic history profession (for more detailed information about her career, see her Washington Post and HUB obituaries). The six records center boxes that make up Dr. Rose's papers, which I just finished processing, contain a great deal of material that documents her academic career.  This includes records of courses taught, visiting professorships won, multiple draft versions of major writing projects, and copies of the Rose Report, a document that made it impossible to deny the inequalities faced by women historians 50 years ago (as the American Historical Association's citation for Dr. Rose when she received the Troyer H. Steele Prize in 1990 notes). Based on the type of material in the collection and the way that Dr. Rose appears to have organized her files, I arranged the folders into two broad series, correspondence and working files/personal papers. For me as an archivist, however, one of the great pleasures of processing is getting a sense of the actual person whose life is represented by the material they left behind. Small details illuminate the human being who lived and breathed and felt beyond the details of a career or a public persona.

There are a few items in particular in Dr. Rose's papers that captured my imagination while processing and (I hope!) allowed me a glimpse of who she was beyond her CV. The first is a sketchbook (Sketchbook of drawings by Willie Lee Rose, approximately 1960s-1970s, Box 6, Folder 35, Willie Lee Rose papers, MS-0905, Special Collections, The Johns Hopkins University) that reveals that academic ability was not her only talent. The book is full of drawings of a variety of subjects, from human figures to landscapes to designs for bookplates for her and her husband's personal library. Most are sketches done in gray with a pencil, but a few are in color and appear to have been done with watercolors or colored pencils. The drawings show genuine artistic talent and an engagement with people and places beyond an academic perspective.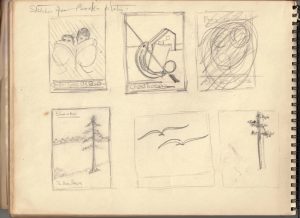 Another revealing item, related to her academic career but out of the ordinary, is a speech Dr. Rose gave in Charlottesville, VA in April 1968 after the murder of Dr. Martin Luther King, Jr. (Remarks on murder of Martin Luther King, 1968-04, Box 3, Folder 35, Willie Lee Rose papers, MS-0905, Special Collections, The Johns Hopkins University). The exact nature of the audience is unclear, but it seems to have consisted of members of the University of Virginia community, which she was a part of at the time. The speech offers insight into the way that Rose saw her own times, and the way in which the 19th century history she studied resonated in the 20th century. In a typed sentence (which she later appears to have revised extensively with handwritten notes), she says of Civil Rights protestors, "The sight of those who were prepared to sacrifice so much and to suffer so much for the sake of something many people had said they didn't care about at all provided the confrontation of conscience the nation had avoided so successfully for a hundred years, that is, from the day of the emancipation proclamation that did not really emancipate, through the day when it was said that it was possible to be free and unequal, down to the present era." Clearly, Rose's study of the long, brutal history of race and racism in America gave her a lens through which to view her own moment.

Finally, mixed in with Dr. Rose's other academic and personal papers are poignant reminders that her academic career was tragically curtailed far too soon. Rose suffered a stroke in August 1978 that took away her ability to research, write, and teach. Despite this, Rose worked hard to regain some of the abilities she had lost, and there is a folder of some of the rehabilitation exercises that she did to re-learn how to use language and math (Rehabilitation exercises (mislabeled "CVW Festschrift"), 1980s, Box 6, Folder 10, Willie Lee Rose papers, MS-0905, Special Collections, The Johns Hopkins University). It is both gut-wrenching and life-affirming to imagine a woman who wrote consequential books and essays and taught at a major research university re-learning how to complete sentences, rhyme words, and do basic addition problems; seeing the actual exercises themselves makes this tangible in a way that simply knowing about Rose's stroke cannot accomplish.

The Willie Lee Rose papers are now open for use in the Special Collections reading room in the Brody Learning Commons. Researchers are welcome to come engage with Willie Lee Rose as an academic and scholar as well as a human being whose life contained many lessons and moments worth remembering.