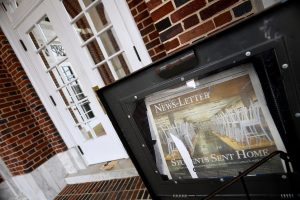 We hope everyone in the Johns Hopkins community, along with your family and friends, are fairing as well as can be hoped for during this time of extraordinary educational, professional, and personal uncertainty.
The Sheridan Libraries' Ferdinand Hamburger University Archives has launched a project to encourage Johns Hopkins University students, staff, and faculty to preserve their personal experiences during the coronavirus pandemic and contribute them to the University Archives.
Our existing collection development policies will help preserve the University's official response in the form of email announcements, administrative records, official photographs, and even websites like coronavirus.jhu.edu. However, the University Archives is taking extra care to ensure that personal experiences and reactions to the pandemic are included in the permanent archives. All members of the campus community are invited and encouraged to participate, especially first-generation/low income students, international students, and students and others still living on or near campus.
We are interested in your stories about the shift to remote instruction and learning, studying and working from home, working at off-campus jobs (in the service industry, grocery stores, etc.), the impact of closing residence halls and other campus services, the ways you and your friends and family are staying in touch during this period of social distancing and self-quarantine, and other topics.
How You Can Participate
The easiest way is to participate is to complete a questionnaire we've created, linked here. If anonymity is a concern, you have the option of submitting without providing your name.
Some additional suggestions include writing in a journal, recording voice memos or interviews with your family or friends, saving your social media posts, or taking photos and/or videos of life as you see it. We accept almost all digital formats. If you're interested in donating any materials or have any questions, please reach out to Jordon Steele, Hodson Curator of the University Archives, at jsteele@jhu.edu. We're here to help! (If you interview other people in the course of your documentation, we will also need their permission so that we can preserve and share the recordings with future researchers. We can provide guidance on this process.) Please be sure to comply with all applicable stay-at-home orders while self-documenting.
Submissions will not be available to the public immediately. However, after they are processed by University Archives staff, they will be publicly available in our digital repository, JScholarship, and may be used in news stories, exhibitions, and other public venues.
One note: if you're affiliated with the Medical Institutions or the Peabody Institute, please visit the Chesney Medical Archives' homepage or the Peabody Institute's ArtReach project page, for more information about their respective COVID-19 collecting projects.
Thank you for your help in ensuring that we collect a more inclusive record of this event and its impact on our community. Take care, and be well.
We acknowledge with gratitude other cultural heritage institutions that have inspired this project, especially the university archives of the University of North Carolina-Charlotte, Stanford University, and Cornell University.