Having studied Spanish since I was seven, I know how important the newspaper El País is to Hispanists-in-training all over the world. I still remember how my middle school Spanish teacher, Srta. Whitaker, used to cover every inch of the bulletin boards in her classroom with articles from El País and other Spanish language newspapers to the point that they eventually formed a kind of stratigraphy, richly layered and endlessly compelling. Even the smallest clipping on the most recondite topic was fascinating to 12-year-old me. Who knew that Panama had only just assumed control over the Panama Canal or that FARC guerrillas (not "gorillas", as one classmate of mine was somewhat disappointed to hear) had been engaged in armed conflict longer than I had been alive? But more than just being a welcome distraction from drilling the complex morphology of the imperfect subjunctive or the occasionally baffling distinctions between por and para, El País and other newspapers like it provided a window into a world I scarcely could have imagined before.  
Fast forward two decades to the Sheridan Libraries, where I arrived in January to take up the position of Librarian for Modern Languages and Literatures & Comparative Thought and Literature. Among the very first questions I received from a patron was about access to El País online for classroom use. My delight at being reminded of an old friend was dashed as soon as the patron informed me that the publisher had recently placed El País online behind a paywall which not even the formidable information sappers of the Sheridan Libraries could breach. Confused at having encountered no such paywall myself, I set off on a mission to ensure unfettered access to the newspaper online for JHU patrons. After weeks of correspondence with the good folks in Technical Services, I ultimately determined that no such paywall now exists on elpais.com. While I was delighted to receive this answer, the question itself proved even more fruitful in a way (as is so often the case in libraries), for my colleague here in the Academic Liaison department, the inimitable Jim Gillispie, suggested a workaround using a database called PressReader. I've been hooked ever since.
Every time I open PressReader, I feel like I'm back in Srta. Whitaker's Spanish class, mesmerized at another new window into a veritable world of information I had no idea existed before. Through it I've discovered not only an eminently readable digital version of El País (formatted like a broadsheet newspaper, with clickable articles and even a "listen" feature that converts texts into surprisingly accurate voice-overs in robo-Castillian accents), but myriad other resources as well.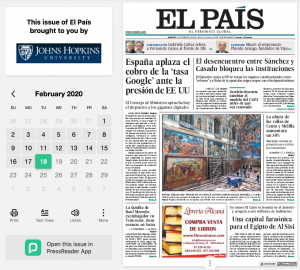 For instance, among the 7,000 periodicals on offer in more than 60 languages (which can also be organized by country), I've happened upon such hidden gems as The Forward , an American newspaper written in Yiddish (another language I represent in Modern Languages and Literatures here at JHU), and the various regional editions of 20 Minuten, a Swiss newspaper that nostalgically reminds me of the sort of things one is wont to read while riding on metros throughout Europe. While faculty members interested in foreign language pedagogy will surely revel in many of these unique resources, English speakers are sure to find plenty to keep them engaged, too, from Newsweek to Athleisure.
As both a librarian and a philologist (I went on to earn a PhD in Latin and Greek after becoming fluent in Spanish, proficient in Italian and German, and capable of reading advanced texts in French), I'm embarrassed to admit that it took me so long to notice a database like PressReader, which, to my mind, makes for an easier reading experience than NewsBank, ProQuest, and similar services that tend to take a more archival approach to the news (though PressReader does archive certain periodicals as well). However, when some of my colleagues informed me that they hadn't heard of PressReader either (including a member of the French section of Modern Languages and Literatures, who had long sought to find a way behind the paywall of a major newspaper like Le Temps), I felt a little less like a Luddite. Part of the reason I (and too many others, it seems) have arrived late to the party may have to do with the fact that MARC records for individual newspapers contained within PressReader do not always show up in a given catalog search (a good reminder to make FindIt @ Johns Hopkins Libraries your go-to destination when searching for anything related to serials). Automated discovery of the constituent resources of PressReader is already improving on Catalyst, but in the meantime, I urge you all to jump in, explore PressReader on your own, and let me know what you think (my office is on M level, behind the Research Consultation Office). You might be surprised by what you find.
At the risk of hyperbole, this experience exemplifies why I love working in libraries: no matter how much I think I may know, what I have yet to learn is still much more. With the help of my brilliant colleagues and the resources they oversee here at the Sheridan Libraries, I can continue to find new worlds and turn the Spanish saying aún aprendo ("I am still learning") into a reality every day.