To support its mission of preserving the past for future use, Sheridan Libraries Special Collections acquires rare and unique materials in lots of shapes and sizes. Many of our very large items are stored in "flat files," or drawers built to accommodate oversized materials. (Flat files are a common way for architecture firms to store blueprints, but libraries have found them to be the ideal tool for proper management of all manner of large artifacts that should be stored flat.)
The Archives unit of Special Collections recently undertook a project to improve our intellectual and physical management of these oversized items so that our users could better discover and access them. As a result, we brought to light a number of resources that had either been obscured through sub-optimal description or had never been described in any public way. Hundreds of items were reviewed, housed appropriately, and described in our online catalog for archival holdings, ArchivesSpace.
This was a fun and rewarding project; surfacing previously inaccessible resources in which our users may find future meaning is one of our core values. It would be an unwise editorial choice to chronicle everything we described as part of this project, but here are a few highlights that caught our attention:
A meticulously drafted 1894 map of Johns Hopkins University's original campus in downtown Baltimore. (We actually uncovered such a trove of previously undescribed maps and architectural drawings that we created an entirely new collection based on our discoveries.)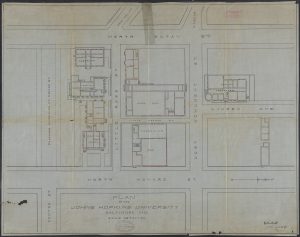 Petitions and posters from the mid-1980s urging the University to divest from South Africa. Before the most recent occupation of Garland Hall (which we are also documenting), this was the most significant campus protest in University history.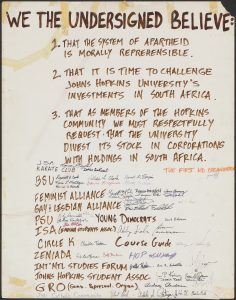 A 1969 essay written by John Guess, co-founder of the Black Student Union, called "One Black Student Sounds Off." (Found in the first and only issue of Odyssey, a student publication positioned as an alternative to the News-letter.)
The original, handwritten copy of our school song, "Alma Mater," gifted to the University's first President, Daniel Coit Gilman, by the song's co-creator in 1894.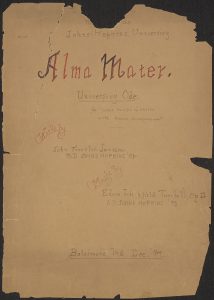 This list just scratches the surfaces of the wealth of materials now much more accessible to our diverse community of users. If you ever use an oversized item in Special Collections as part of your research, chances are you found it because of this project.